Our sweet little babies has such sensitive skin, it is best to use very simple lotions for moisturizing them after baths and diaper changes.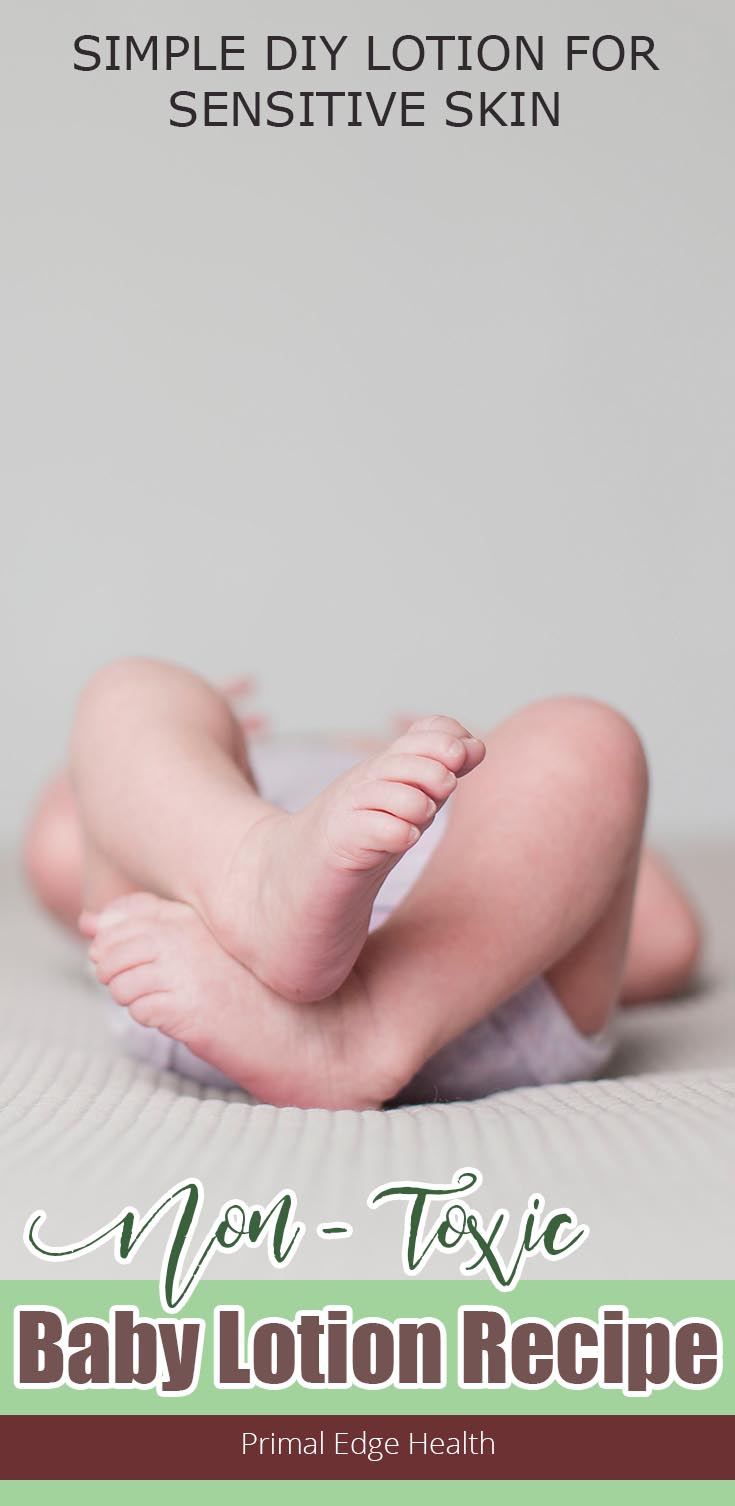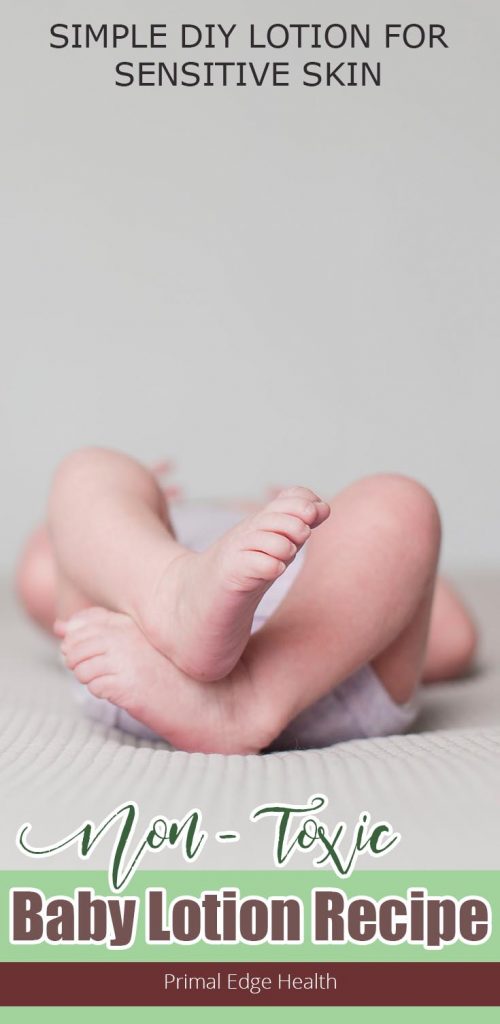 Reading over the long list of ingredients on popular baby care products makes me cringe! No one needs a bottle with 10 different ingredients they can't pronounce.
A easy to make, simple non-toxic baby lotion recipe made from 100% natural unprocessed ingredients is really all you need.
This is a thoughtful gift for new moms! If you want more ideas, check out Bath and Body Recipes that Make Great Homemade Gifts.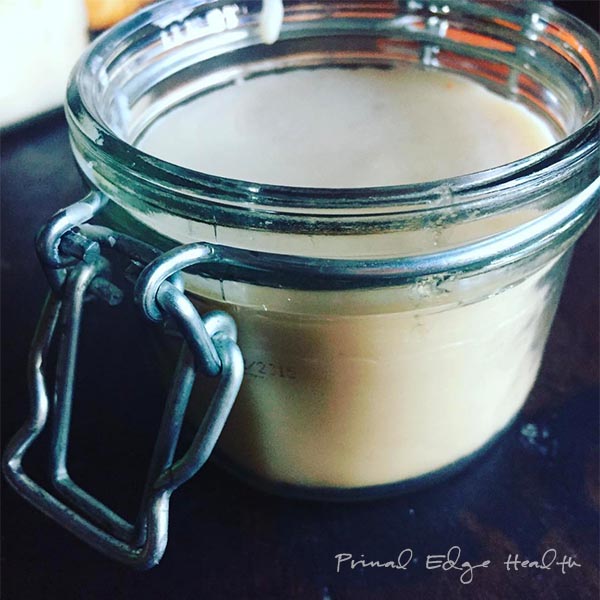 Tallow is the rendered fat from ruminant animals. It's chemical composition is very similar to that of human skin, and may be one of the best ingredients for natural skin care. Ingredients to render tallow at home are very affordable. Usually, the easiest way to source suet/tallow is by buying direct from local ranchers, however I can also recommend shopping online at US Wellness if you don't have a local option.
I last linked up with Paige from Elder N Honey Co in May when she shared her Simple Tallow Balm with us. This non-toxic baby lotion recipe is similar to that original formula but simplified even more for delicate skin.
Elder N Honey has been handcrafting tallow balm since 2014. Use coupon code PRIMALGLOW for 15% off any tallow lotion or creams!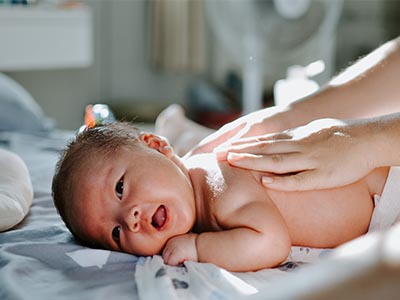 Homemade Non-toxic Baby Lotion Recipe
With just two ingredients, a DIY baby lotion can't be much more simple. This combination will be safe to expose your baby to, there are zero hidden chemicals or hard to pronounce additives.
The olive oil is optional, if you prefer to use 100% tallow that's totally doable. A small bit of olive oil makes the balm slightly more smooth and spreadable. Sweet almond oil and macadamia nut oil are examples of other cosmetic "soft" oils that could also be used.
My favorite time to grease up my babes is after a warm bath. I know their pores are open and they can absorb the nutrients easily. I start with the feet and work my way up to their head, being careful to avoid the ears, mouth, and eyes.
As you baby grows, you can use a few drops of essential oil of lavender, lemongrass, or tea tree. Begin with 1-5 drops at a time. All three oils will guard against bug bites and have anti-bacterial properties. Lavender is particularly relaxing and good for inducing sleep. If you are unsure how your baby will respond to added oils, test on a small area first and reapply 24 hours later if no reactions occur.
Don't forget about yourself. I highly recommend this Beef Tallow Moisturizer for all moms.
FOLLOW PRIMAL EDGE HEALTH on INSTAGRAM, PINTEREST and FACEBOOK for more simple DIY beauty and personal care recipes!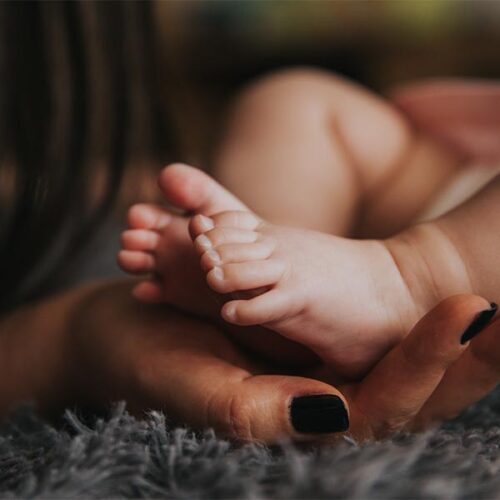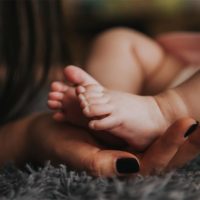 Non-toxic Baby Lotion Recipe
This 2 ingredient non-toxic baby lotion recipe is easy to make and gently on baby's sensitive skin. Tallow based balms can be used for baby massage, diaper rash, and bug bites.
Print
Pin
Rate
Instructions
Place tallow in a mixing bowl.

Pour optional olive oil over the tallow

1 tablespoon extra virgin olive oil

With an electric mixer, mix the ingredients until fluffy.

Store just like any other lotion in a clean air-tight vessel with cap. Use for diaper rash, baby massage, and bug bites.
Made this? Leave a Rating! ⭐⭐⭐⭐⭐
Tag a photo with @Primal_Mom and #PEHrecipe on Instagram to share with us!
Try all of my other easy tallow skin care recipes too!