Are you getting all the health benefits of liver? Learn why you should start eating liver regularly in your diet. Liver is a nutritional superfood and can be seamlessly incorporated into weekly meal prep for the whole family.
Liver is just one of many organ meats you can make to maximize nutrition from animal foods. Add something new to your routine and learn how to cook organ meats that taste good!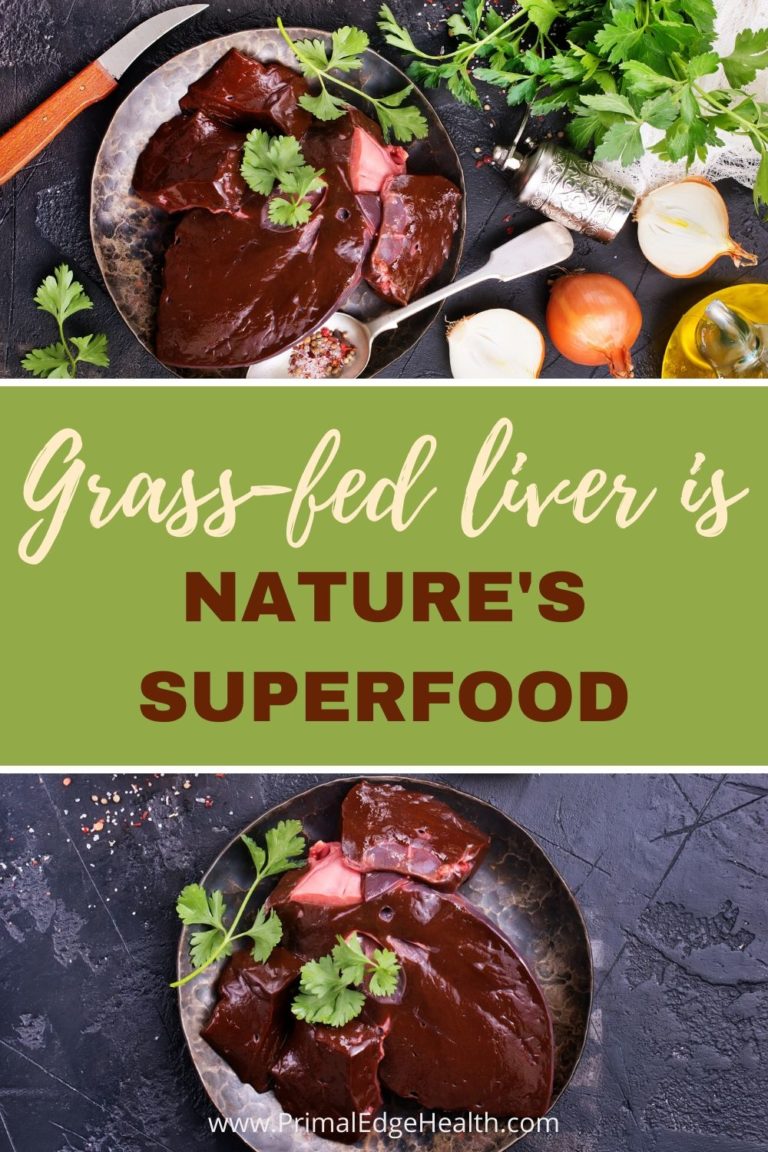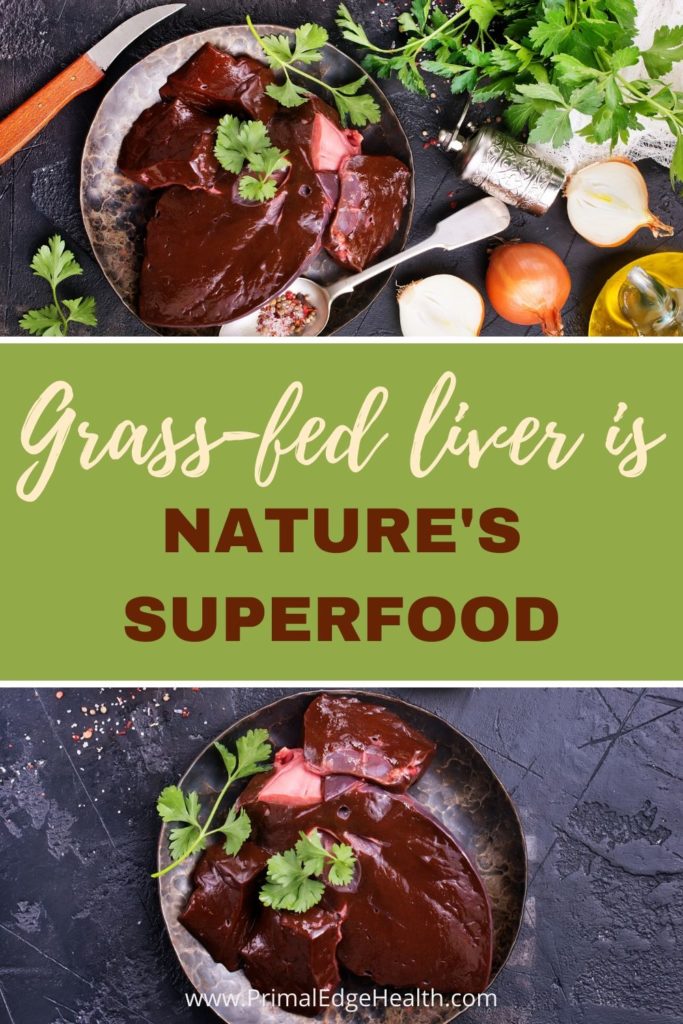 Table of Contents (click to view)
Why Eat liver?
Liver, and organ meats in general, are heritage foods eaten by traditional cultures all over the world.
Nutrition and Physical Degeneration by Weston A Price is just one of the eye-opening books we recommend if you are interested in learning about nutrition and holistic health. His research should be shared high and low because it points to the undeniable and essential need for animal foods in the human diet.
Not only are organ meats affordable sources of protein, fat, and fat soluble vitamins, they are extremely nutrient dense. Adding a small amount of liver to your diet, may be better than a multi-vitamin. Liver is an unprocessed food that contain important co-factors and live enzymes intact so our bodies can properly assimilate the nutrition. Liver, and all animal foods, are highly bioavailable and easy to digest.
There is one more point to share when it comes to the benefits of organ meats.
Breaking through the "yuck" factor will bring you closer to the source of your food and connect you to the circle of life in a more meaningful and profound way.
Is Liver Safe to Eat?
There is a popular misconception that liver stores toxins and can be potentially dangerous to eat.
I once thought "isn't liver where all the toxins go?"
The Weston A Price Foundation has this to say
The liver is an important organ for detoxification but does not store toxins itself.
Souring the highest quality liver you have access to will be best.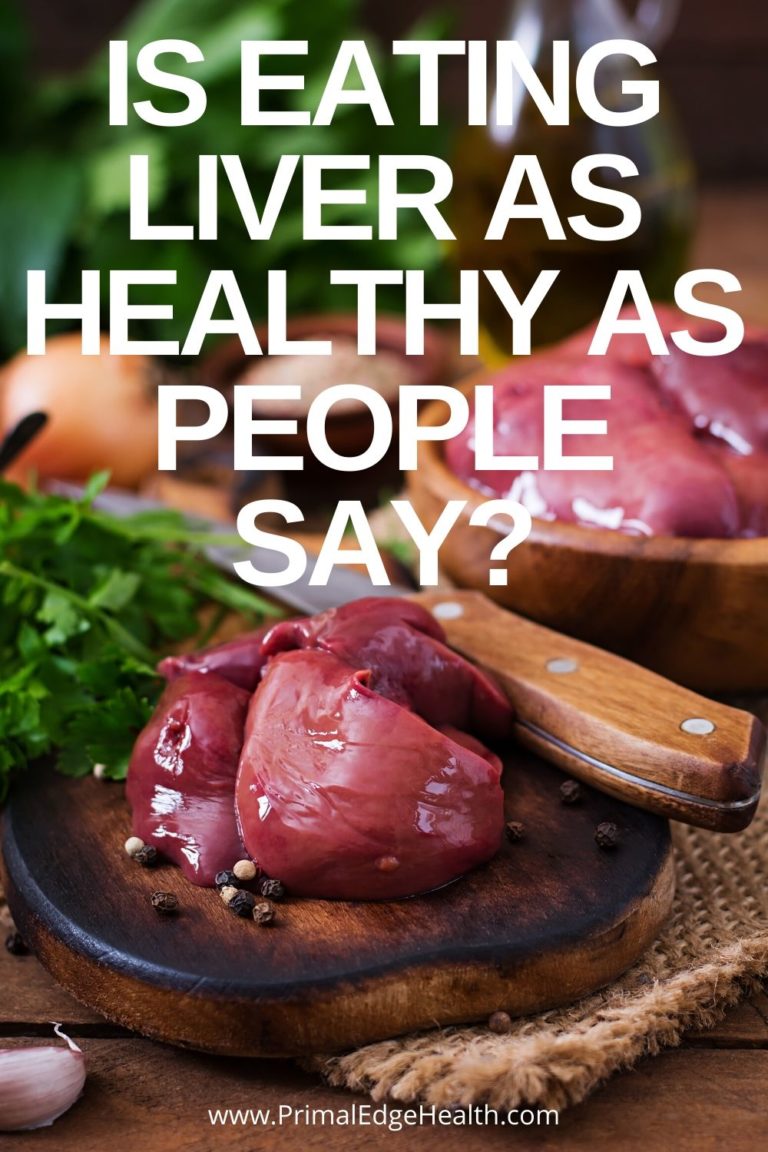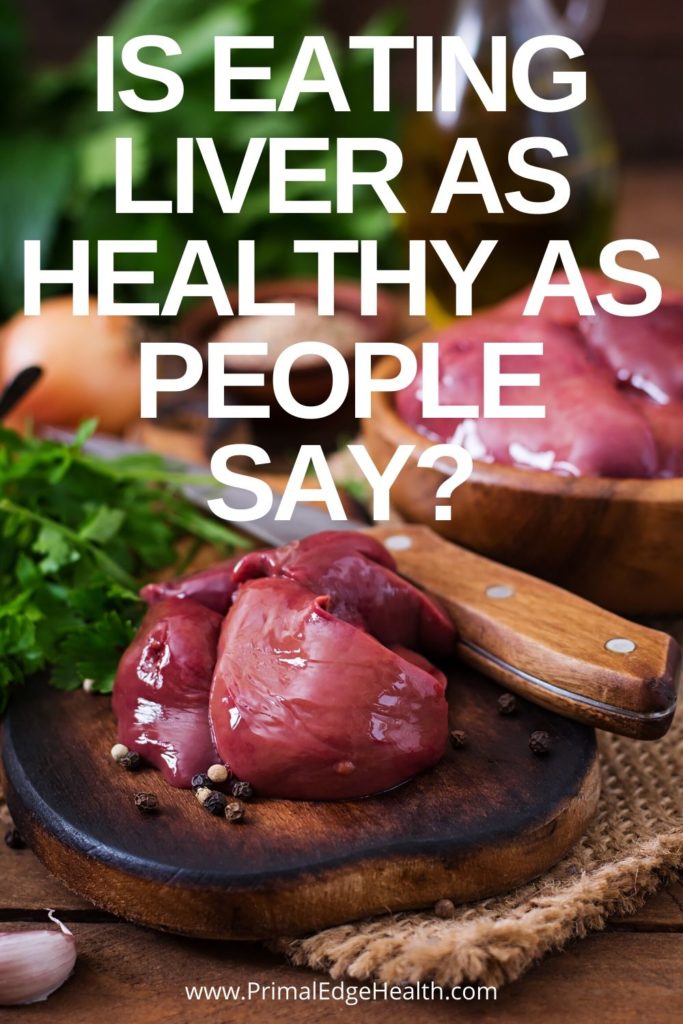 Grass Fed Liver is a Superfood
Compared ounce for ounce, liver is the most nutritional organ meat on the planet.
Some say the most nutritional food bar none.
Out of all the organ meats and "odd bits", liver is the one that packs the most nutrition.
If you can only eat one organ meat, liver is the one to try.
Read All You Need to know about Liver Pate on Keto and Carnivore Diets and make some this week!
What are the Health Benefits of Eating Liver?
Forget about imported sacha inchi nuts from the Amazon or pink Himalayan salt from China, liver is a real superfood.
Liver is one of the richest sources of Vitamin A which serves a vital role in many bodily functions.
One the benefits of cod liver oils, Cholesterol and Health as this to say
In an excellent article by The Weston A Price Foundation on the lore of one of our most important sacred foods they note liver contains
An excellent source of high-quality protein
Nature's most concentrated source of vitamin A
All the B vitamins in abundance, particularly vitamin B12
One of our best sources of folic acid
A highly usable form of iron
Trace elements such as copper, zinc and chromium; liver is our best source of copper
An unidentified anti-fatigue factor
CoQ10, a nutrient that is especially important for cardio-vascular function
A good source of purines, nitrogen-containing compounds that serve as precursors for DNA and RNA.
Sally Fallon Morell, the WAPF spokeswoman, joined our podcast to talk about the importance of nutrient dense foods like liver and raw milk.
It is a must-listen episode, especially if you are in your childbearing years or feeding small children.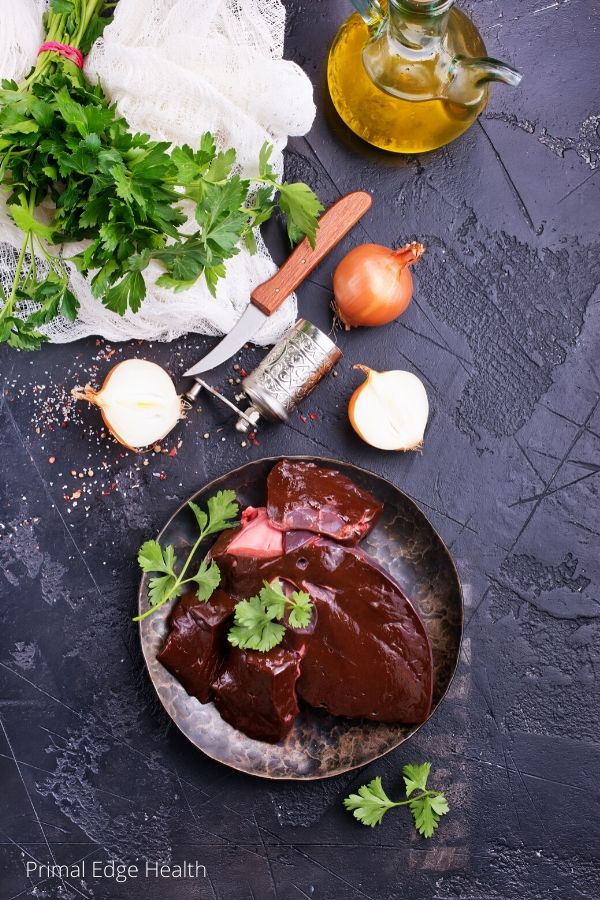 Which Liver is Best: Beef Liver, Chicken Liver, Pork Liver
Kirschmann published a chart comparing liver nutritional facts from different animals in the Nutrition Almanac. Beef, lamb, veal, chicken, duck, goose, and turkey livers are listed with the amounts of Vitamins A, B1, B2, B6, B12, C, and E as well as all the important minerals.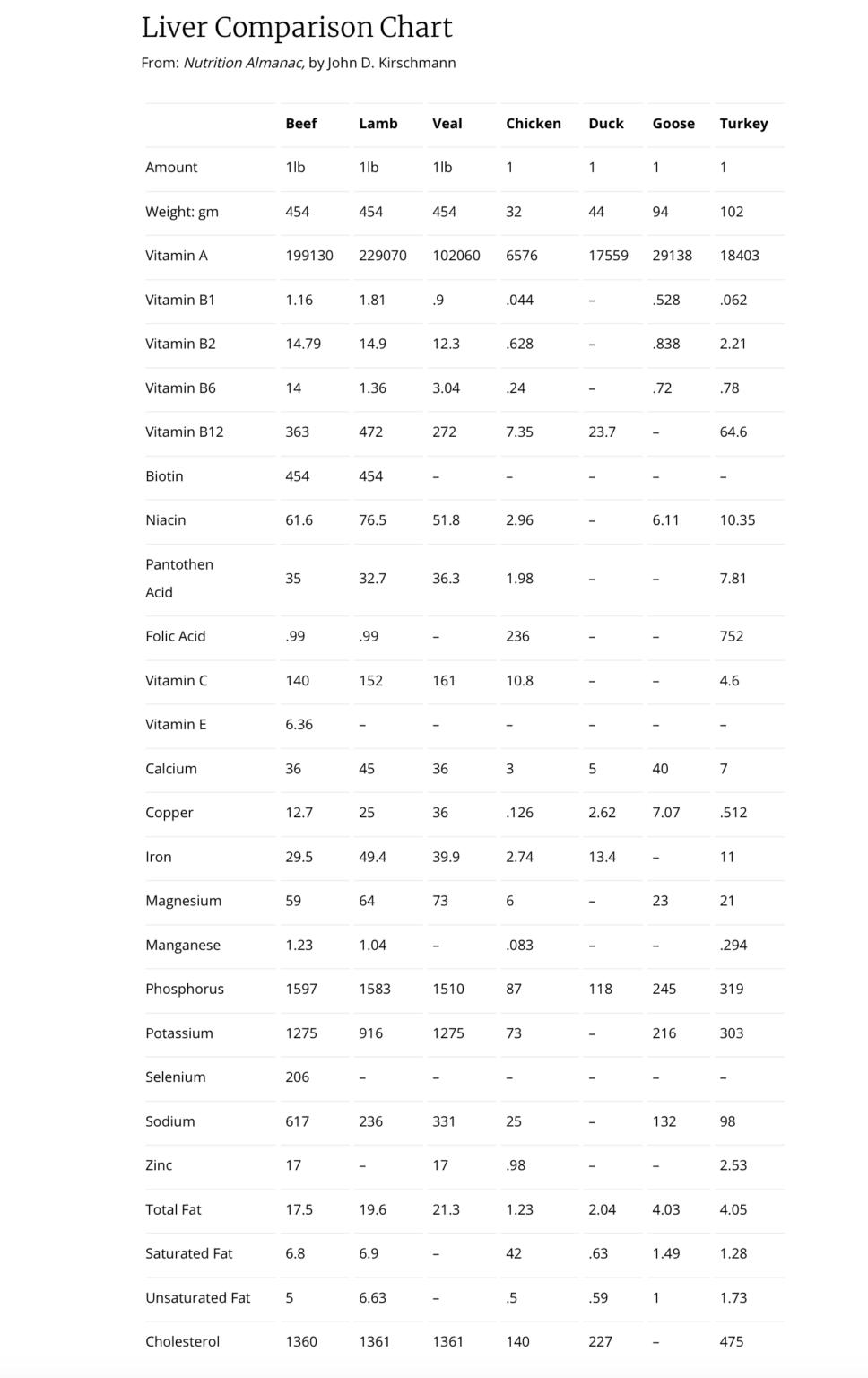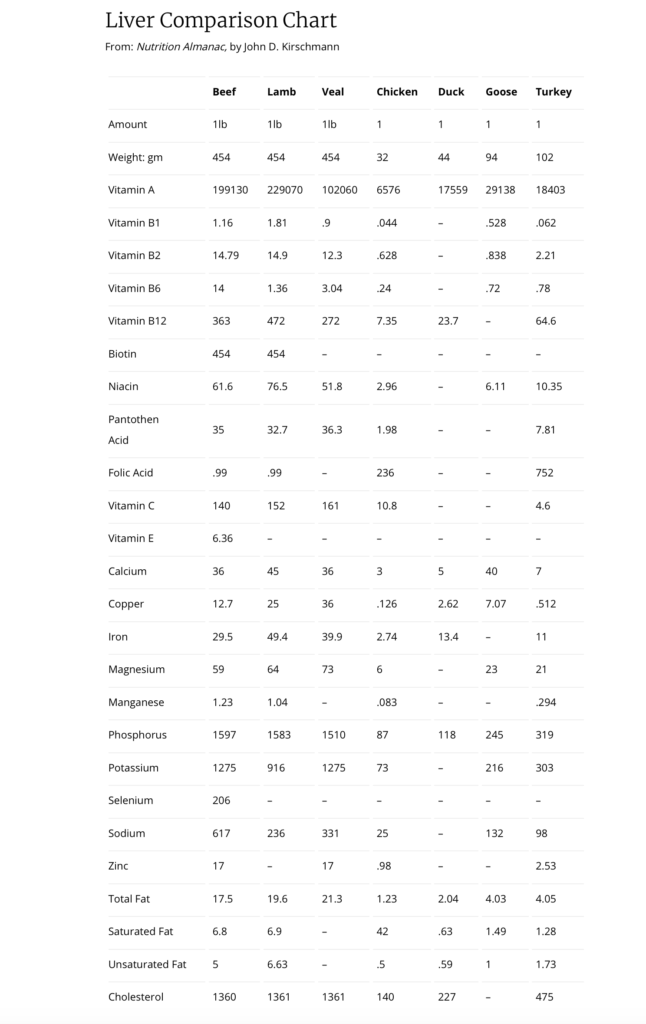 There's really no wrong choice when it comes to eating liver since all livers have health benefits.
Read Where to Buy Liver to source from a farm near you or find a place online.
Choose the best quality one you can find or the one you like the taste of most.
Desiccated Beef Liver
If you aren't ready to buy the real thing, desiccated beef liver capsules are the second best option.
Ancestral Supplements provides high-quality organic and grass-fed beef liver capsules. Getting the benefits of liver is literally as easy as swallowing a pill.
This option is also great if you are traveling and want to take your nutrition on the go.
Healthy Beef Liver Recipes (Keto & Carnivore Diet Approved!)
If you are making easy keto recipes, carnivore diet recipes, low-carb, paleo, or any from-scratch recipes, I have a liver recipe for you!
Browse through my collection of Organ Meat Recipes.
If you are eating a keto diet or carnivore diet but don't already have The Ketogenic Edge Cookbook or The Carnivore Cookbook, get one now! They both include a hefty section on nose to tail eating.
Liver pate's are great for beginners:
Dive into healthy liver recipes with hidden liver and you won't be disappointed!
Easy and Delicious Liver Recipes
Originally published September 9, 2015. Updated April 2020 with new images and information.