These Crustless Mini Meat Pies with hidden liver show you exactly how to cook beef liver without flour. They are a nutrient-dense addition to meal prep for breakfast or lunch. It's a great way to make organ meat recipes you actually want to eat without any unusual taste, texture, or appearance. Meat pies are a great option for those interested in zero-fiber carnivore diet recipes too!
Organ meats provide many health benefits and are very affordable foods. Don't miss out on these traditional ingredients!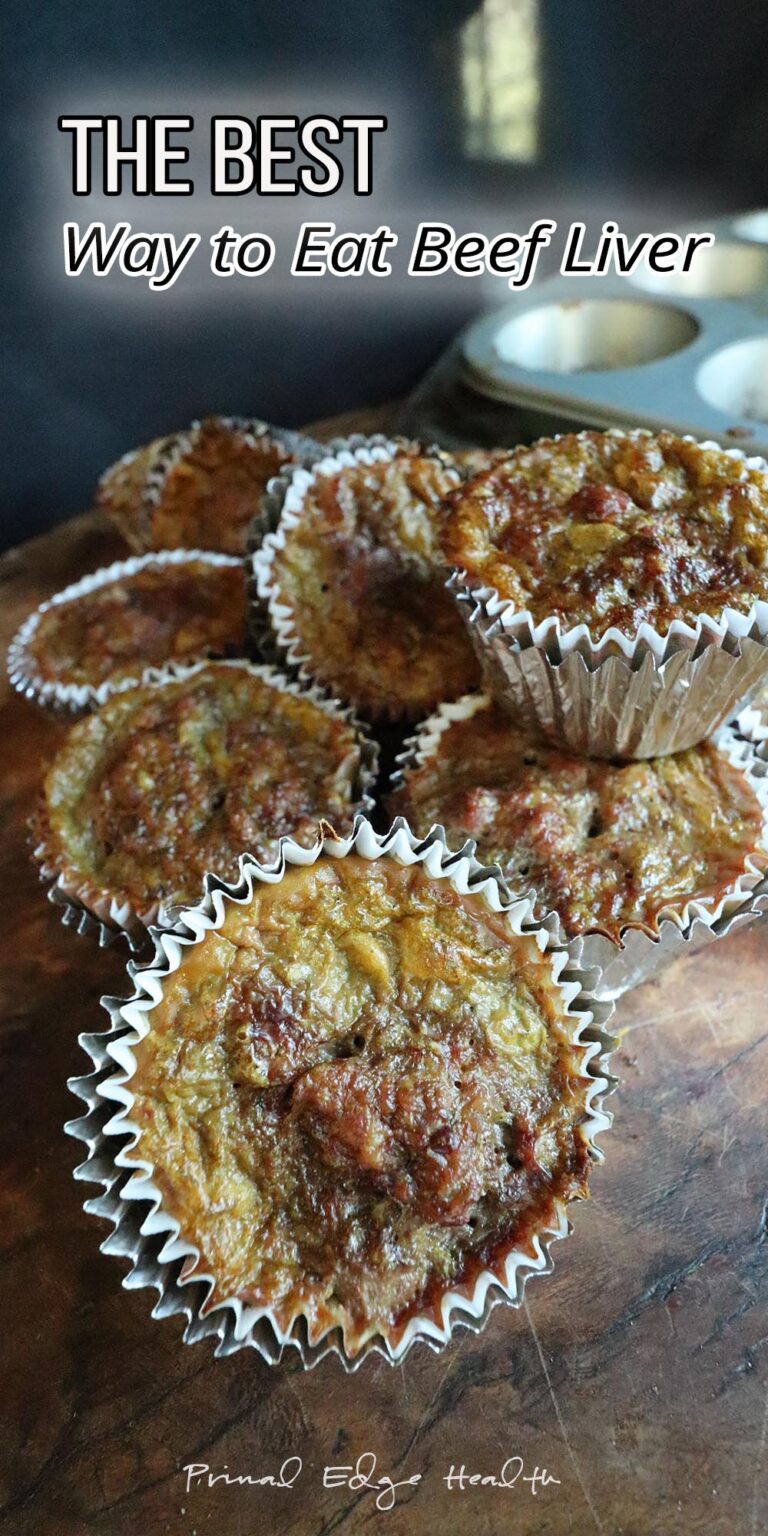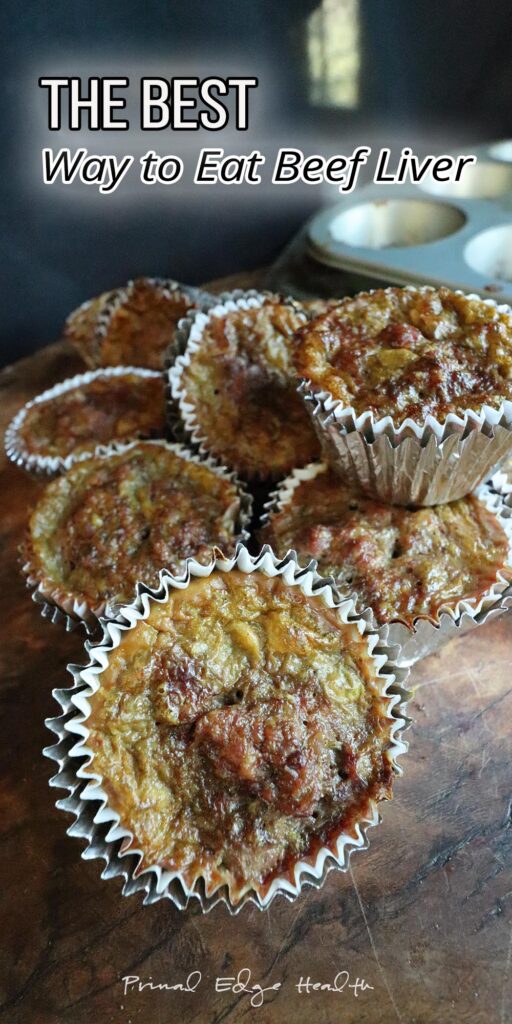 By nature of focusing on meat, healthy fats, vegetables low-carb fruits, easy keto recipes already do a decent job of improving the general nutrient profile of your foods. However, if you want to get serious and take your diet to the next level, adding liver a few times a week is the way to go.
Liver is a nutritional powerhouse. It is, ounce for ounce, the most nutrient-dense food on the planet.
For some, it's hard to wrap your head around, but overcoming the cultural disconnect is totally worth it.
There are many benefits of organ meats and nose to tail eating:
It is a respectful, utilitarian approach to raising animals for food
Organ meats, bones, and hoofs are some of the most affordable parts – great for my budget!
They are highly concentrated sources of nutrition

What are the Benefits of Eating Liver?
As a full-time, homeschooling, mompreneur I need my health to be on point 24/7. There's too much to do that would suffer if I'm feeling lousy. Plus, children are only little for so long and I want to make the most of it while I can!
I rely on a diet free from processed foods, inflammatory ingredients, and sugar to keep me going strong day in and day out.
A low-carb, keto diet does wonders for me personally. I use organ meats to take it to the next level.
Adding liver regularly is part of this strategy. The health benefits of liver are impressive!
I know I'm not the only one who feels the same, liver is often referenced as an "anti-fatigue" food due to its health-boosting attributes.
A quarter-pound of liver once every 1-2 weeks is a healthy practice for anyone who wants to have high nutrient density in their diet. It is highly recommended for pregnant and breastfeeding women, young children and the elderly. People with auto-immune conditions, gut issues, and previous vegans and vegetarians can also benefit greatly.
Be sure to branch out into other organ meats too. This Easiest Beef Kidney Recipe and Beef Heart Meatballs are also delicious and super simple to make.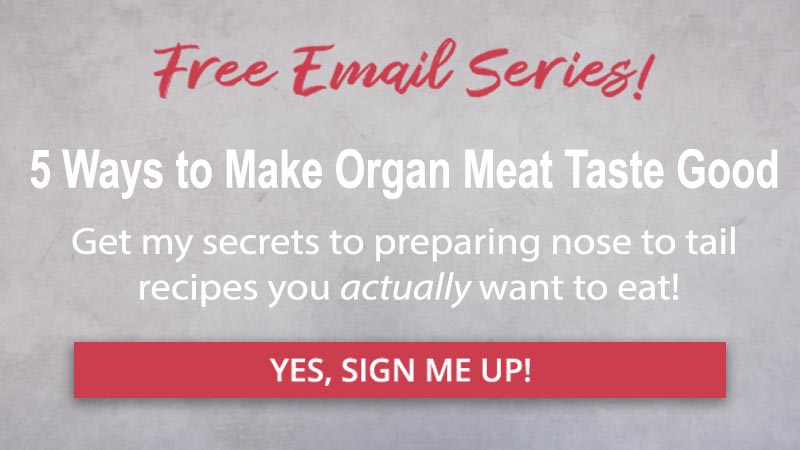 This post may contain affiliate links. Primal Edge Health LLC may receive a small commission at no extra cost to you for any orders made through these links. All thoughts and opinions are our own and we never promote something we wouldn't use ourselves.
Why do you cover liver in flour before cooking?
Many traditional liver recipes call for dredging liver in flour before frying it in oil or lard. Flour adds a bit of flavor and can help to diminish the musky, iron-rich taste liver is known for. Cooking in flour also enhances the texture, giving a nice crispy coating that gives an enjoyable mouthfeel.
How to Cook Beef Liver without Flour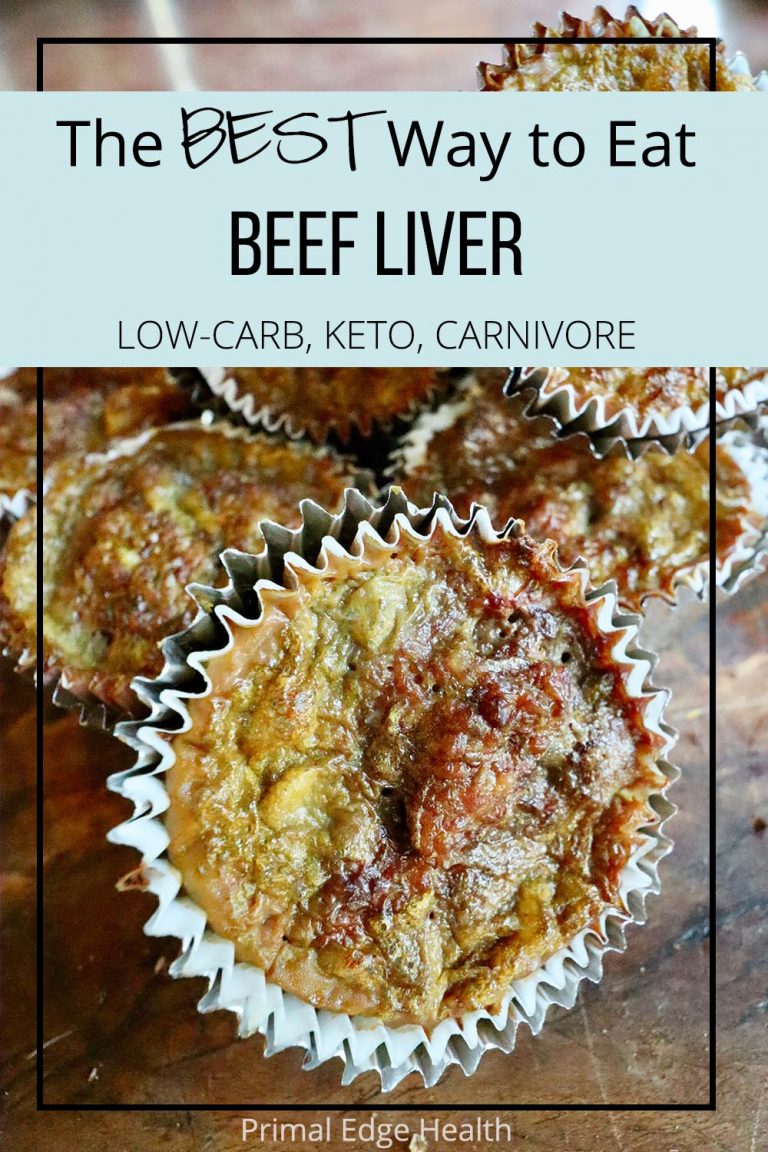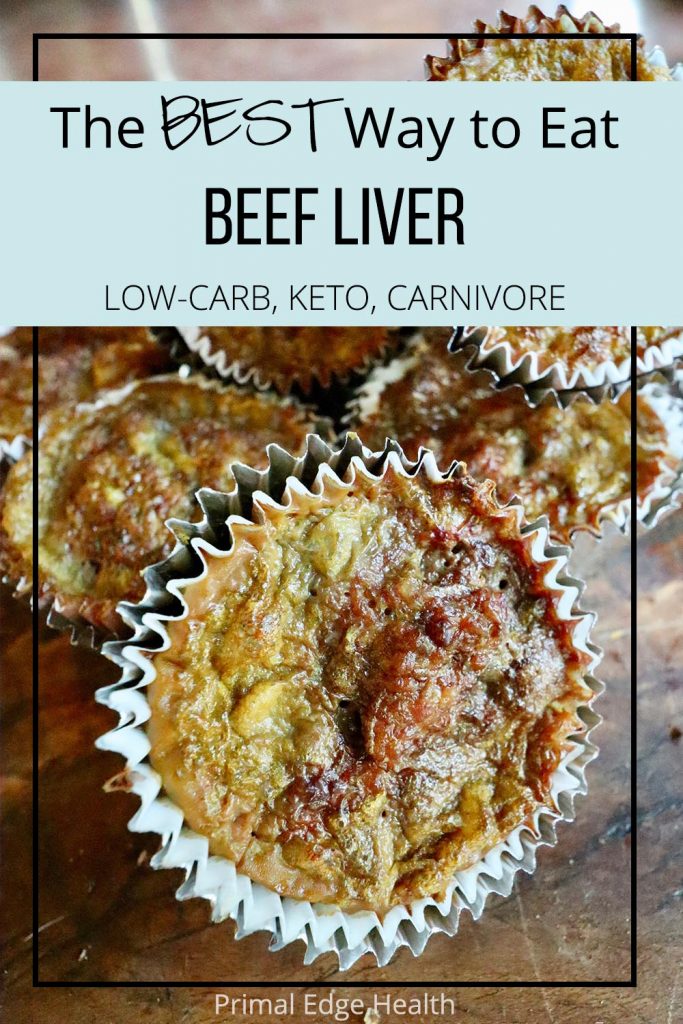 Dredging liver in flour may be delicious, but for those interested in a gluten-free or low-carb approach, we need something different.
My #1 recommendation for anyone who wants to normalize liver in their diet is to use ground liver.
Once it is ground, liver can be seamlessly added into any ground beef recipe. Combining liver with ground meat effectively hides the liver, making it a great choice for picky eaters, nursing toddlers, children, and unsuspecting family members.
We share tips like this in our Keto & Carnivore Collective and find that 25% ground liver to 75% ground beef is a good place to start.
Use this strategy next time you make burgers, meatballs, meatloaf, and other ground beef dishes.
Follow the directions in Cabbage Noodles with Hidden Liver and you'll see exactly what I mean.
How to make Ground Liver
The easiest way is to ask the friendly face behind the meat counter to do this for you. Your butcher already as access to a meat grinder, all that needs to be done is to pass the liver through and wrap it up for you.
If you order online or already have it in your freezer, defrost the liver and dice into small cubes. Add to a food processor or blender and pulse or blend until all pieces are chopped up.
Ground liver has a uniquely sticky element to it. Unlike ground beef which can be molded and pressed into shape, liver is gooey and too soft to be held together on its own. Keep this in mind as you grind it up so you know what to look for.
Blending with a machine will result in the most uniform texture. If you don't have access to an appliance that will do this for you, liver may also be finely chopped by hand and mixed into the meat.
What is the best way to disguise the flavor of hidden liver?
Any type of liver may be substituted for beef. I've made this recipe with beef, veal, mutton, and lamb liver. I assume chicken, pig, goat, elk, venison liver may also be used. Each will add its own flavor, specific to the animal.
I have a hunch you will be surprised at how good the flavor of this recipe is just on its own without a lot of onion, garlic, or herbs. You might not believe me now, but I encourage you to give it a try!
Make liver taste good by
Adding up to a tablespoon of your favorite seasoning blend. Make these mini meat pies spicy with a Mexican inspired combination of cumin, cilantro, and chili pepper or add an Italian flair with rosemary, basil, and oregano.
Using different mineral-rich salts. There are so many options and each brings its own unique flavor!
Saute onion and 2 cloves of garlic, then add to the meat before cooking.
Cook with beef tallow or other flavorful animal fat
In the original recipe, Mini Meat Pies, published in my Ultimate Guide to Low-Carb Baking I use 1 tablespoon of herbs de Provence.
Liver pate is another great recipe for beginners. The creamy blend of butter, liver, herbs and garlic is not to be missed!
Zero Carb Carnivore Diet Recipe Adaptation
Some folks find they prefer a strict Carnivore Diet to remedy auto-immune conditions, improve mental health, and achieve rapid fat loss. If this sounds like you, make the Crustless Meat Pie recipe by following the directions below but omit the herbs.
Find more meat inclusive meal ideas in The Carnivore Cookbook with over 100 recipes made from just the essentials or browse through my free collection of Carnivore-Friendly recipes.
---
THRIVE with Animal-Based Nutrition!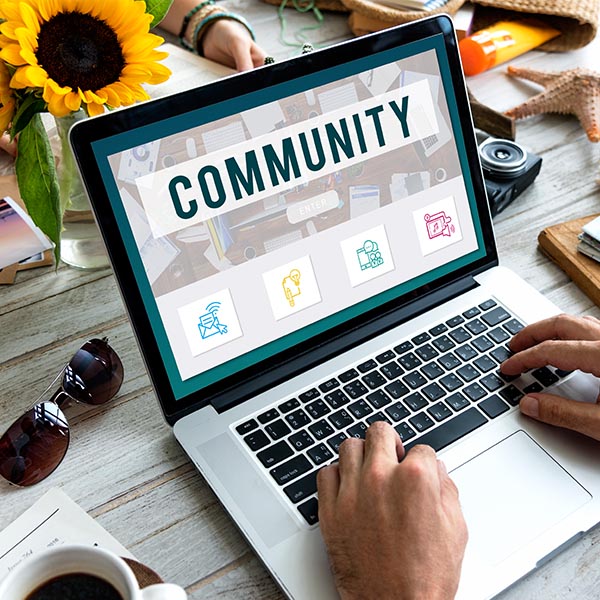 Join our private membership for weekly coaching calls, and accountability, plus ongoing inspiration from like-minded people seeking to improve their health!
---
With 0 g net carbs per serving, Crustless Meat Pie is a delicious way to cook beef liver without four, increase nutrient density and staying on a keto carnivore diet.
The recipe below is 100% free of gluten, grain, sugar, and dairy. Great for paleo, low-carb, ketogenic and carnivore diets!
★ FOLLOW PRIMAL EDGE HEALTH on INSTAGRAM, PINTEREST and FACEBOOK for more low-carb, ketogenic recipes and diet tips!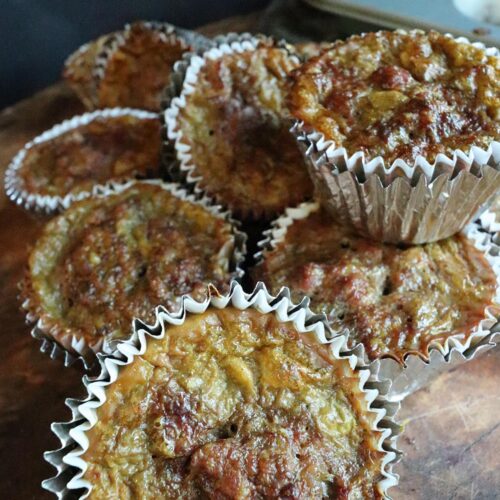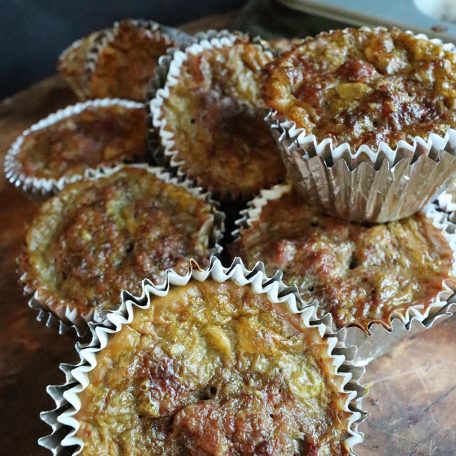 Meat Muffins with Hidden Liver
These 5-ingredient crustless Mini Meat Pies with hidden liver are the perfect nutrient-dense addition to breakfast or lunch. Pack them in a lunchbox or keep in the fridge, they pair well with everything. It's a great way to get your liver in without any unusual taste, texture, or appearance.
Instructions
Preheat oven to 350°F (177°C).

Mix meat and liver in a bowl.

Whisk eggs, pour over meat and stir to combine.

Melt the tallow and pour over meat egg mixture. Mix well.

Season with salt and optional herbs.

Grease a 12-cup muffin pan or use cupcake liners. Spoon mixture into each well evenly.

Bake for 20 minutes. Remove from oven and cool for 10 minutes before taking out of the pan. They may look wet still, but it's just the melted fat. Let them cool and everything will firm up. Serve warm or leftovers cold.
Video
Meat Muffins with Hidden Liver by primaledgehealth on Jumprope.
Notes
May also adapt to a 24-cup mini muffin pan for smaller portions or bake in an 8 x 8 inch baking dish or something similar.
To grind liver:
Ask your butcher to do it for you
Dice into small cubes and blend in a food processor or blender.
Chop finely by hand
See post above for more details.
Nutrition & Macros
Serving:
1
muffin
Calories:
139
kcal
Carbohydrates:
1
g
Protein:
10
g
Fat:
10
g
Saturated Fat:
4
g
Cholesterol:
110
mg
Sodium:
255
mg
Potassium:
152
mg
Fiber:
1
g
Sugar:
1
g
Vitamin A:
1718
IU
Vitamin C:
1
mg
Calcium:
21
mg
Iron:
2
mg
To obtain the most accurate representation of the nutritional information in a given recipe, please calculate the nutritional information with the actual ingredients and amounts used, using your preferred nutrition calculator. Under no circumstances shall the this website and the author be responsible for any loss or damage resulting for your reliance on the given nutritional information.
As featured in 34 Paleo & Keto Organ Meat Recipes, 62 Recipes for the Carnivore Diet and on MeatRx.
More Low-Carb Meat Pie Recipes
Add ground liver into any of these crustless keto meat pies. Make your favorite when you need a quick family dinner and save the leftovers for breakfast the next morning – they are delicious!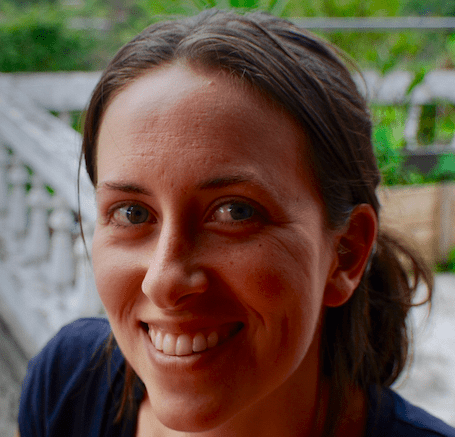 Meet Jessica Haggard
Jessica Haggard is the creator of Primal Edge Health, where she shares simple, nourishing low-carb, keto and carnivore diet recipes. With a focus on from scratch, homemade cooking, animal-based nutrition, and easy DIY beauty and personal care recipes, there's always something new going on in her kitchen! Jessica will teach you exactly how to thrive with all the best ingredients and enjoy the journey along the way.
She has photographed and authored two best selling ketogenic cookbooks, The Ketogenic Edge Cookbook and The Carnivore Cookbook. Learn more about Jessica…