We're here discussing how to cook beef liver without flour. For whatever reason, you don't want to use flour in your recipes. I hear ya! Wheat is a common allergen for many people these days and most wellness diets omit it entirely from their protocols. Cooking liver without flour is preferred for whole30, AIP, GAPS, gluten-free, keto, carnivore, and other diets.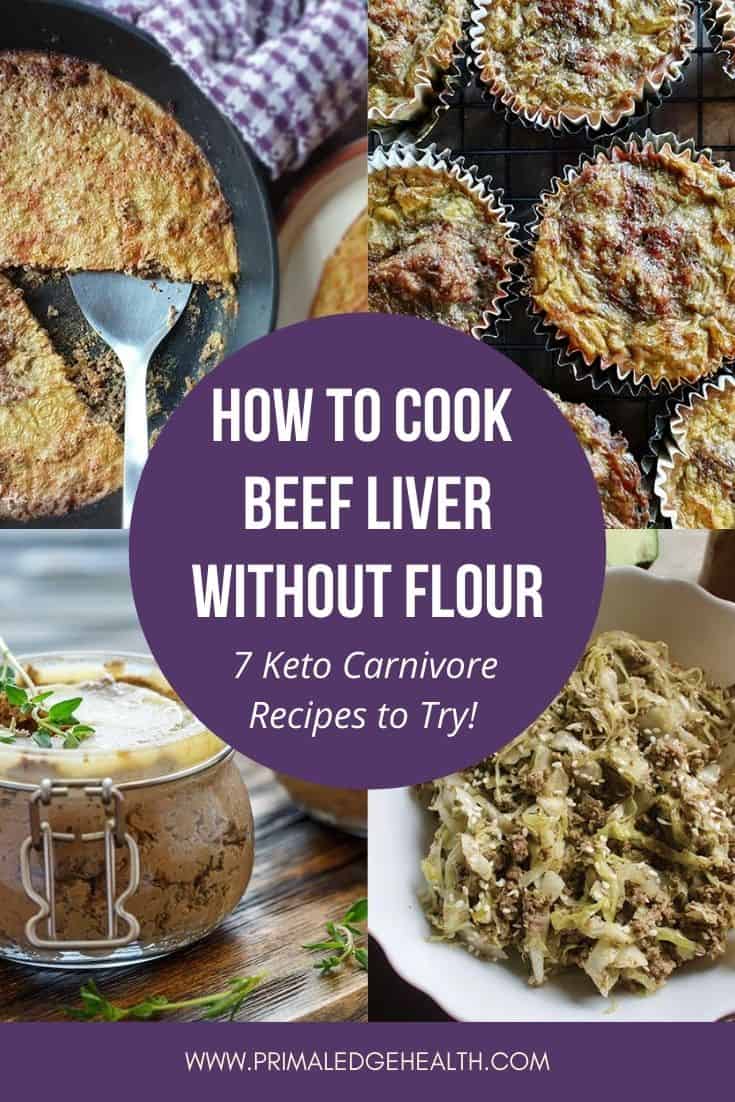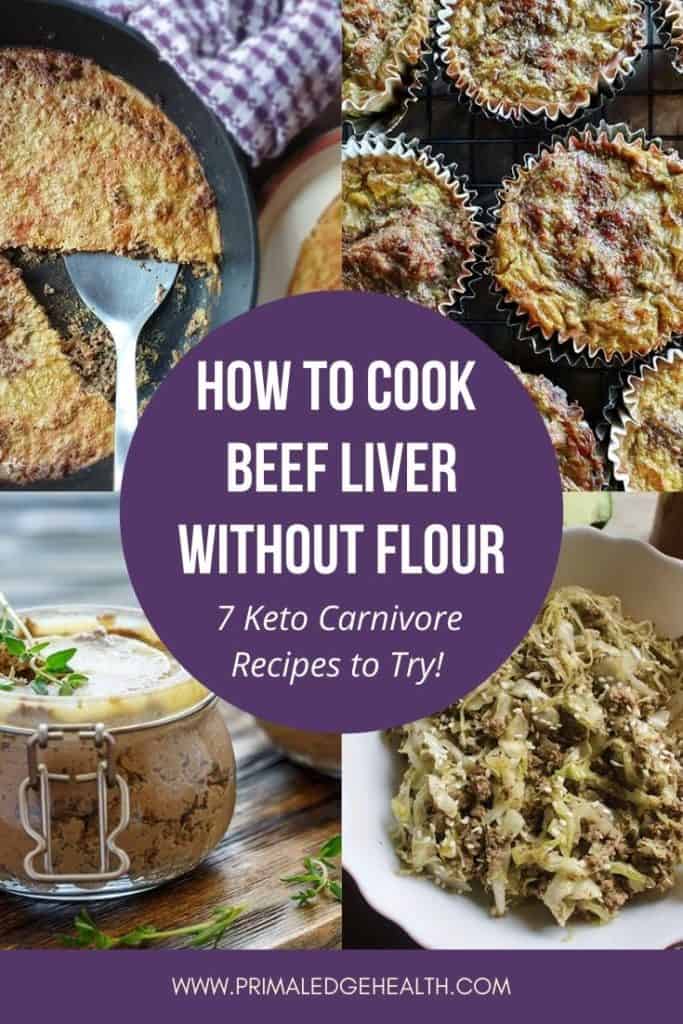 Table of Contents (click to view)
Best Ways to Cook Beef Liver
There are three main methods to cook liver: sauté, pan fry, and hidden with ground beef.
Liver is usually not baked by itself or slow cooked, but you can probably find an exception.
SAUTE
The most popular way by far. Liver is sliced and sautéed in butter with onions. Many people recommend soaking the liver in milk or lemon water beforehand as a means to remove the bitter, iron-rich flavor. Sautéed liver is excellent with cream sauce.
PAN FRY
Give liver an extra crispy finish by pan-frying. Cook it until golden brown on one side and then flip, just once, until juices pool on the second side. Frying liver without flour is my favorite approach for general cooking and also liver pate.
HIDDEN
Disguising liver in your dish is accomplished by one of two ways. The first way is to finely chop or mince the liver by hand and mix it into a chili or whatever it is you are cooking.
The second, and my personal choice, is to grind liver, combine it with ground beef, and then prepare it however you like ground beef. I recommend beginning with 10% liver mixed with 90% ground beef and working your way up to 25% liver and 75% ground beef. US Wellness offers an organ meat blend with ground beef, liver, and kidney. This is a great way to add organ meats to your diet without any unusual look, taste, or texture.
If you're on a strict carnivore diet, you'll want to read more on Ways to Eat Liver on a Carnivore Diet.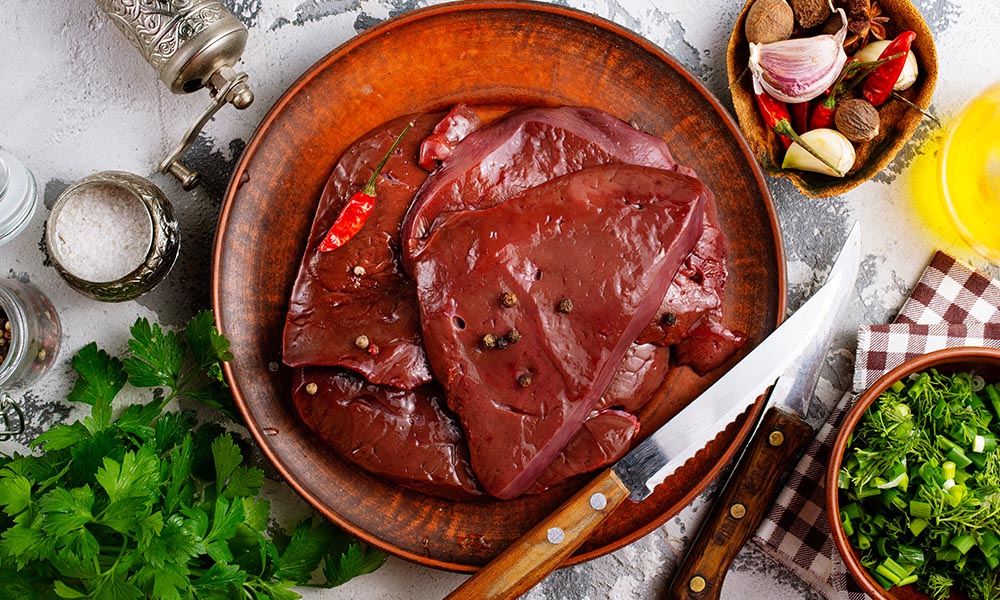 How to Cook Beef Liver without Flour
Many traditional liver recipes call for drenching beef liver in flour before frying it in oil or lard. This adds a bit of flavor and can help diminish the musky, iron-rich liver taste.
Cooking in flour also enhances the texture, giving a nice crispy coating that gives an enjoyable mouthfeel.
While it may be delicious, those of us interested in a gluten-free or low-carb approach need something different.
In most cases, I recommend simply omitting the flour and continue with the recipe as is. Like we touched on above, it's fine to sauté or pan-fry liver directly in the pan with a cooking fat.
You can cook chicken livers without flour in this same way. Take a look at my Keto Chicken Liver Pate to see what I mean.
To anyone eating liver for the first time, I highly recommend using ground liver.
Once ground (more on that below), mix it into ground beef. From there, the sky is the limit on the recipes you can make. Any recipe with ground beef will work!
Serving a well-loved dish in its familiar form, but with the addition of hidden liver, is the ideal way to start eating more liver. This is a great choice for picky eaters, nursing toddlers, children, and unsuspecting family members too.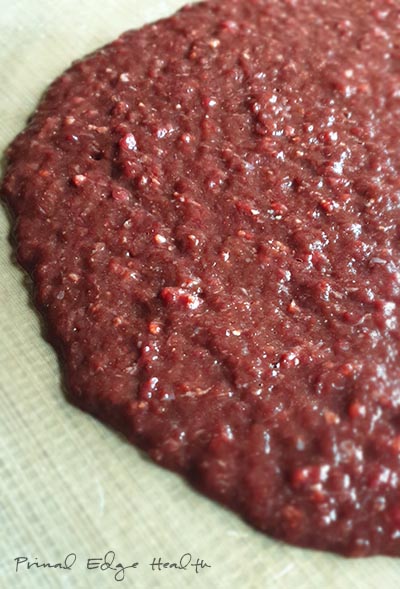 How to Make Ground Liver
Did I convince you to try ground liver? I hope so!
The easiest way to make ground liver is by asking the friendly face behind the meat counter at your local butcher. They have all the tools and expertise to help you out and usually don't mind the request.
Some places like US Wellness sell pre-made organ meat blends you can order online and have shipped frozen to your door.
If you can only find whole liver, the task is in your hands. Dice the liver into small cubes and place it in the bowl of a food processor or a blender container. Pulse or blend until smooth.
When I first saw ground liver, I was surprised by what a sticky, gooey texture it has. When you see yours, know that the soft texture is normal.
Blending with a machine will result in the most uniform texture but not everyone has access to an appliance. If you don't have a food processor or blender, finely chop the liver by hand and mix it into the meat like that. It won't be as similar in texture, but with some hot sauce or flavorful herbs and spices, you can disguise it all the same.
Where Can I Buy Beef Liver Near Me?
I have a few favorite places to buy grass-fed liver, plus important shopping tips you should know about. All of this information is clearly detailed in our shopper's guide Where to Buy Liver.
Sign up for the shopping guides that are in our Subscribers Resource Library and you'll be privy to our best tips for sourcing meat directly from the people who raise it. Enter your name and email in the form above.
It is important to support local food producers and farmers as much as possible!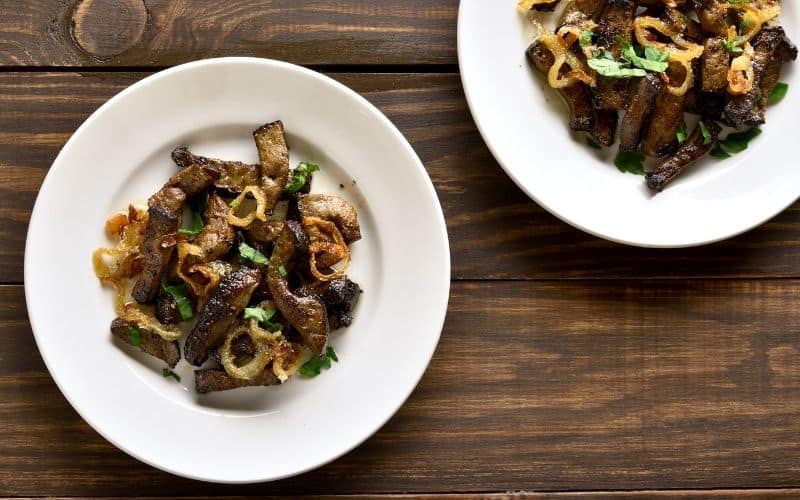 How to Cook Liver and Onions without Flour
Liver and onions is by far the most well-known way of cooking liver. Don't miss out on this recipe just because you don't want to use flour!
Skip the flour coat and pan fry the liver directly on the pan. It's that easy! You can fry liver without flour, no problem.
Cooking beef liver without flour is really easy once you try it. We went into more details in the section above so scroll back up if you missed it.
Read the full list below for more delicious liver recipes without flour.
7 Beef Liver Recipes with No Flour
Get ready to cook liver without flour! These no flour liver recipes are as delicious as they are nutritious. Great for any one who wants to add more organ meats to their diet. As a bonus, most of these are beef liver recipes without onions too, so if that's what you're looking for, you are in the right place!
Take a look How to Cook Meat on a Carnivore Diet and try other techniques too!
This post was originally published on Nov 22, 2019 and was updated with details and new images on Dec 11, 2020.