With this keto scones recipe, you can enjoy coffee shop-style treats in the comfort of your kitchen in less than 30 minutes! With only ten low-carb pantry ingredients, you can make a batch of these tasty treats effortlessly. Plus, these low-carb almond flour scones allow you to jazz them up based on your personal tastes.
This is a great example of delicious keto breakfast recipes can be. No one has to know these scones are gluten, grain, or sugar-free.
Table of Contents (click to view)
Keto Scones Recipe
Traditionally, scones are made with wheat flour and sugar but not these! These scones are a delightful twist on the classic treat, made with low-carb flour and other wholesome ingredients.
With their delicate crumb, gentle sweetness, and customizable options, these scones are the perfect guilt-free indulgence for breakfast, brunch, or anytime you crave a delicious baked delight while staying true to your keto diet goals.
But the best part about this great recipe is that you can use it as a blank slate to add flavor and variety.
We're focusing on blueberries here, but you can easily follow the ingredient substitutions below and make other varieties of sweet or savory scones.
And if you have a bumper of blueberries to use up – try them in this blueberry avocado smoothie or top coconut flour pancakes and keto French toast. They are also delicious in a healthy sweet omelette or cup of raw milk yogurt. YUM!
Get ready to savor every bite of these mouthwatering scones that cater to both your taste buds and your wellness journey. And if you don't have a copy of The Ultimate Guide to Low-Carb Baking where I first published the recipe, be sure to pick that up today!
So let's tap into that keto baking pantry to make a batch of delicious low-carb scones.
Keto Scones with Coconut and Almond Flour
Almond flour and coconut flour are some of the best types of keto flour. They are naturally gluten and grain-free, making them good options for those with gluten intolerance or those on the paleo, keto, or Whole30 diet.
Combining coconut flour with almond flour brings a unique balance and texture to baked goods. Almond flour provides a nutty flavor and a moist, crumbly texture, while coconut flour adds absorbency and structure. Combining these flours results in a more cohesive and satisfying final treat.
Low-Carb Scones Recipe
Gather these simple ingredients and you're on your way to delicious keto scones in just 30 minutes.
Ingredients
Almond flour – As a great low-carb alternative to traditional wheat flour, blanched almond flour helps create a crumbly dough in the scones. I buy my almond flour in bulk from Wildly Organic. You can also use almond meal, but the texture may not be as smooth.
Coconut flour – Helps absorb moisture and gives structure to these gluten-free scones. I also buy my coconut flour in bulk from Wildly Organic.
Keto granulated sweetener – Provides sweetness without added sugar. Use a low-carb alternative like monk fruit sweetener that won't spike your blood sugar.
Coconut milk – Adds richness and moisture and is a great keto alternative. You can use almond milk, but the texture may differ.
Coconut oil – Gives a moist and tender texture. Coconut oil is a healthy source of fat that is a regular part of a keto diet. Using coconut oil instead of melted butter makes this a dairy-free scones recipe.
Egg – Acts as a binder and adds structure, holding the ingredients together and contributing to the overall flavor.
Baking powder – Gives the scones a slight rise, contributing to a light and fluffy overall texture.
Salt – Enhances the flavors and balances the sweetness of the scones. Sea salt also adds depth and richness.
Vanilla extract – Adds a delightful aroma and flavor to the scones, providing a hint of sweetness.
Fresh blueberries – For the best keto blueberry scones. Infuse your baking with bursts of a juicy blend of tart and sweet. Fresh blueberries add a wonderful fruity taste and a pop of color to each bite.
Substitutions and Variations
These keto almond flour scones offer a low-carb twist on the classic scones. With a gentle sweetness, this keto scones recipe can be easily customized to make different flavors.
Try these fun and delicious ideas:
For the chocolate lover – Swap out the blueberries with one cup of chocolate chips or drizzle sugar-free chocolate sauce over the tops for a decadent taste and eye-popping look.
Add a burst of lemon – Make keto blueberry lemon scones by adding a few teaspoons of fresh lemon zest to the keto dough. Make a lemon glaze with one tablespoon of coconut oil mixed with half a tablespoon of lemon juice and one teaspoon of powdered sweetener. Cool the scones completely before glazing them.
Mixed berries: Use other berries instead of a full cup of blueberries. Add an equal amount of chopped strawberries, raspberries, blackberries, or a combination of the ones you have on hand.
Make savory scones – Skip the sweetener and berries altogether and add cheddar cheese on top of the scones before baking to make cheese scones.
Diet Modifications
As written in the printable recipe card below, this recipe is naturally gluten-free, low-carb, keto, dairy-free, and sugar-free. If you have additional dietary needs, consider the following modifications.
Paleo – Make the recipe as written in the recipe card but swap the keto sweetener with coconut sugar, sucanat, or maple sugar.
GAPS – Use honey instead of the keto sweetener.
Unfortunately, these scones do not align with the guidelines of a low-oxalate diet (because they contain almond flour and berries) or the Whole30 program (because that excludes sweets and desserts entirely).
Step-by-Step Instructions
Follow these simple steps, and you'll make the best keto scones perfectly the first time you try it!
Step 1: Mix the Dough
In a large bowl, combine almond flour, coconut flour, low carb sweetener, baking powder, and salt together.
In a separate bowl, whisk the egg with coconut milk (or another nut milk), coconut oil, and vanilla extract.
Add the dry ingredients to the wet ingredients and combine well.
Gently fold in the blueberries into the wet mixture.
Step 2: Shape
Shape the scone dough into eight individual scones. You can shape them into small rounds on a lined baking sheet or form the dough in a circle and divide into eight sections with a sharp knife.
Wiggle the knife side to side to make space between each scone so they don't stick to each other during baking.
If desired, dust the scones with extra sweetener, and press the sweetener gently so it sticks to the dough. This gives a nice texture to the tops.
Step 3: Bake
Bake the scones in a preheated oven for 20-30 minutes or until golden brown.
Here comes the hardest part about this almond flour scone recipe: don't touch the scones as they cool.
It's tempting to dig into a warm scone but the texture will be better after letting them cool completely. They will turn crumbly and fall apart if you move them too soon. Almond flour keto scones firm up as they cool, yielding a much better texture.
And just like that, you have a tasty treat ready for your afternoon tea or a delicious low-carb breakfast to enjoy with a hot adaptogenic latte or a coffee alternative.
To store, keep the scones in an airtight container in the refrigerator for up to five days. Rewarm them in the oven on a baking tray before serving if you want to recreate the oven-fresh feeling.
Nutritional Info for Keto Scones Recipe
This almond flour scones recipe yields eight servings of one scone per serving.
You will love these scones with only seven grams of carbs and three grams of fiber, giving you only four grams of net carbs.
Each serving contains:
149 calories
4 g protein
13 g fat
7 g total carbs
3 g fiber
4 g net carbs
Please note that the nutritional data will change if you substitute ingredients. Use a nutrition app recalculate and reflect your changes.
Keto Scones FAQ
Can I freeze almond flour scones?
Yes, you can freeze these scones. Place them in a freezer-safe container or freezer bag and squeeze out as much air as possible to avoid freezer burn. Place in the freezer and freeze for up to three months. Thaw at room temperature.
Are blueberries keto?
Many berries are allowed on a keto diet because they are fruits with the lowest carb count. For some, berries have many health-promoting benefits.

According to FatSecret 1 cup of blueberries has 83 calories, 21 g carbohydrate, and 3.5 g fiber, yielding 17.5 g net carb. Furthermore, this recipe uses only one cup of blueberries divided into 8 servings, giving each scone only about 2.5g carbs from blueberries per piece.

Overall, that is a very minimal amount. Therefore, blueberries are a great addition in moderation to a ketogenic diet.
Can I use frozen blueberries instead of fresh blueberries in this recipe?
Yes, with slight adjustments, you can use frozen blueberries instead. Ensure you learn how to correctly bake with frozen blueberries to avoid scones or muffins turning blue.

If you use frozen berries, bake for the full 30 minutes. Check them and allow ten extra minutes if they are not fully golden brown.
More Keto Breakfast Ideas
Being on the keto diet doesn't mean you have to settle for boring breakfasts.
There are so many delicious and easy keto recipes and low-carb keto breakfast ideas to try!
If you want something light and refreshing, go for a green smoothie or flourless keto waffles. Alternatively, cozy up with a warm keto cereal and a mug of hot chocolate.
You will also love baking high-protein options like a classic frittata with spinach and feta cheese and savory breakfast casserole or 2-ingredient English muffins.
If you make these gluten-free scones, please leave a review. I appreciate each 5-star rating and review comment!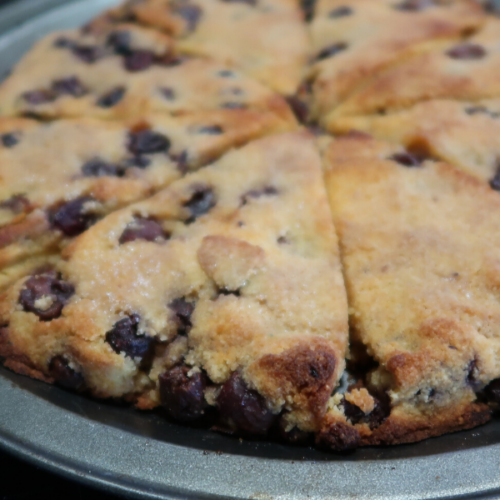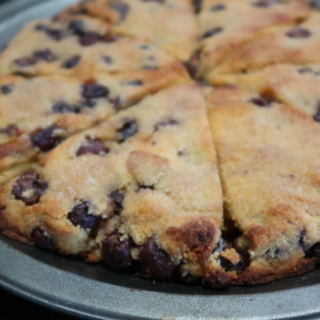 Keto Blueberry Scones Recipe (Low-Carb, Dairy-Free)
In less than 30 minutes you can make these tea party worthy gluten-free, low-carb blueberry scones. Follow the easy recipe directions or watch along in the video. Use just 10 keto ingredients you probably already have in your pantry!
Instructions
Preheat the oven to

350

°F

(175°C). Lightly grease a baking sheet or small pizza pan with coconut oil.

Combine almond flour, coconut flour, sweetener, baking powder, and salt in a small bowl.

1 cup almond flour,

¼ cup coconut flour,

¼ cup Keto sugar substitute,

½ teaspoon baking powder,

¼ teaspoon salt

Whisk the coconut milk, coconut oil, eggs and vanilla in a second bowl. Fold the wet mixture into the dry ingredients. Mix gently until dough forms.

¼ cup coconut milk,

2 tablespoons coconut oil,

1 large egg,

1 tsp vanilla extract

Shape the scones on a baking sheet in 8 individual discs or form a circle on a pizza pan and cut it into 8 even sections. Separate the pieces a bit so they do not stick together while baking. Sprinkle additional sweetener on the tops and press down gently, if desired.

Bake for

20-30 minutes

, until golden brown on the edges. Let cool completely before serving.
Notes
Fresh blueberries work best. If using frozen, bake for the full 30 minutes. Check them and allow up to 10 extra minutes if they are not fully golden brown.
Nutrition & Macros
Serving:
1
scone
Calories:
149
kcal
Carbohydrates:
7
g
Protein:
4
g
Fat:
13
g
Saturated Fat:
5
g
Sodium:
82
mg
Fiber:
3
g
Net Carbohydrates:
4
g
To obtain the most accurate representation of the nutritional information in a given recipe, please calculate the nutritional information with the actual ingredients and amounts used, using your preferred nutrition calculator. Under no circumstances shall the this website and the author be responsible for any loss or damage resulting for your reliance on the given nutritional information.
Made this? Leave a Rating! ⭐⭐⭐⭐⭐
Tag a photo with @Primal_Mom and #PEHRecipe on Instagram to share with us!
This dairy free, keto scones recipe was originally published on Nov 22, 2017, and was republished in April 2020 with better tips.