Keto Pumpkin Muffins are a delightful way to enjoy classic fall flavors without the carbs! With only 4-ingredients (plus spices) these muffins are a fun, low-calorie way to celebrate the change in weather. 100% low-carb, keto, and sugar-free, plus low-oxalate and dairy-free too!
Gluten free and dairy free pumpkin muffins
Even though I am not dairy free all the time, I completely understand the seriousness of food allergies and sensitivities.
Just because you omit certain foods does not mean you have to sacrifice any flavor or texture. These muffins are here to prove it!
Love baking? I highly recommend The Ultimate Guide to Low-Carb Baking for all you need to know about sugar-free, family-friendly sweet and savory baked goods.
This recipe is 100% gluten free and dairy free like many of my keto breakfast ideas.
How to Make Easy Keto Pumpkin Muffins
The process behind these muffins is surprisingly easy making this a great recipe to make with your children!
With 6 simple keto-friendly ingredients, 5 easy steps, and 30 minutes, your kitchen will soon be smelling of cinnamon.
Begin by preheating the oven.
Next, gather all the ingredients.
Combine them in one single bowl and mix well.
Use a handheld or stand up electric mixer. Mix just long enough to incorporate the batter evenly, don't go crazy and overbeat it.
Pour the batter into a greased or lined 12-cup muffin pan.
Make sure each well fills evenly.
Pop them in the oven to bake for 20 minutes and patiently wait until they are golden and firm on top.
Remove from heat and set aside to cool before serving.
That's all there is to it!
Low oxalate recipe with coconut flour
Not only is coconut flour gluten-free, but it is also low oxalate diet approved!
What is oxalate, you wonder?
Oxalate comes from oxalic acid which is made by plants for biological purposes. It is a natural plant compound found in foods like spinach, Swiss chard, almonds, soy, cacao, and others.
Our podcast with Sally K. Norton, a leading expert on oxalate research, may be shocking to hear but oxalate levels can have a big impact on your health!
As you learn more about oxalate and how it might affect you, download and printout my free low oxalate food list to help guide your food choices.
Since coconut is technically a fruit, not a true nut, it is low in anti-nutrients and does not require soaking or sprouting like grains, nuts, and seeds.
It is pretty unique, so knowing how to use coconut flour properly is a big help.
There are many delicious coconut products for keto and low oxalate diets! I buy in bulk from Wildly Organic and have these stocked in my pantry all the time.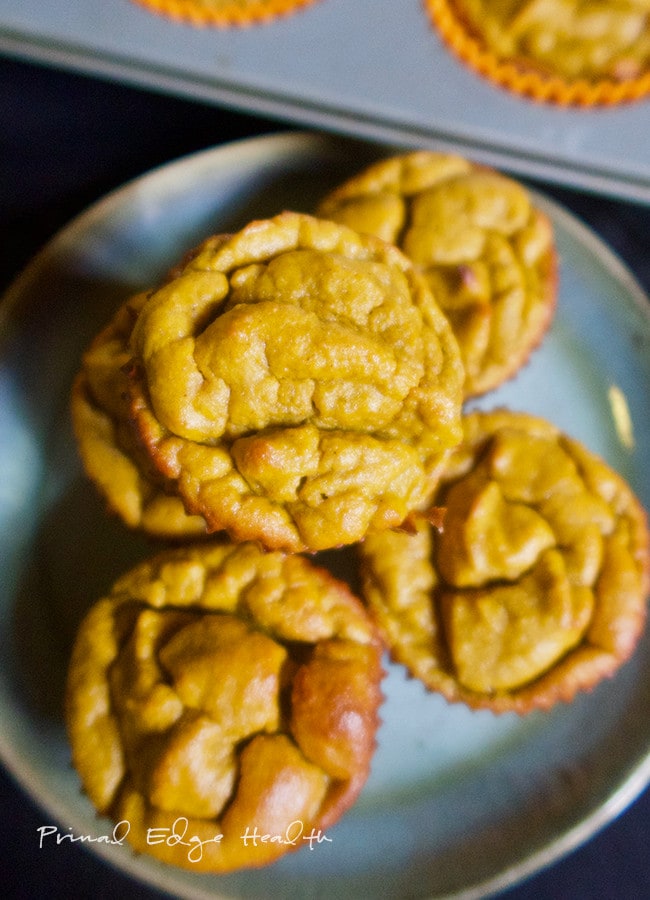 How to store low carb pumpkin muffins
Leftover muffins may be kept in an airtight container in the refrigerator for a week or so.
Store in a freezer bag or container for up to 6 months.
Always be sure to label them so you remember what they are!
Eat them cold or reheat in the broiler or toaster oven. They are great for packing into lunch and taking on the go since they are compact and will never give you a messy spill.
Is pumpkin keto friendly?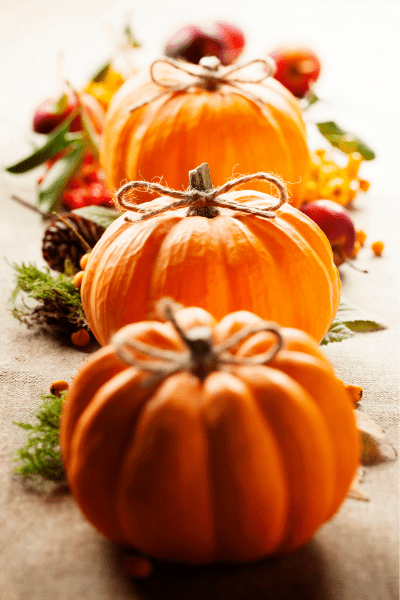 Are you surprised to see pumpkin listed in a keto recipe?
In moderation, pumpkin is very keto friendly.
Classified but the American Diabetes Association as a starch, pumpkin has the least about of net carbs when compared to potato, corn, butternut squash, parsnip and a few others.
This recipe only uses 1/2 cup of pumpkin puree which is then divided into 12 muffins. There is only 0.67 tablespoon of pumpkin in each muffin. That's nothing!
So feel free to add it to your weekly menu. You are going to want one of these muffins with your cup of hot Keto Chai Tea Latte to warm up with once the mornings turn chilly.
If you want to make this recipe ahead of time, you may! These cups are freezer friendly and work well in weekly meal prep.
For more pumpkin-ey goodness try this Pumpkin Keto Cheesecake Fluff from Real Balanced next.
How many carbs are in a low-carb pumpkin muffin?
Each muffin has 3 g total carb with 1.5 g of fiber. That makes only 1.5 net carb per muffin!
There's nothing wrong with using pumpkin on a keto diet, in fact there are many tasty pumpkin-inspired recipes to make!
What is pumpkin puree?
Don't confuse pumpkin puree for canned pumpkin pie filling! They are not the same thing.
What we want for keto approved recipes is labeled as "100% pumpkin puree" or simply "canned pumpkin". Check the ingredient list to be sure it is just one ingredient with no spices or sugar added.
You can make a homemade version by mashing cooked pumpkin, it would be the same thing. Substitute in equal measurements.
Sugar Free & Low Calorie Muffins
With only 20 calories per muffin, these are extremely light. If you're counting (which I'm not) you can enjoy these without hogging too many of your daily calories in one meal.
It's nice to be able to satisfy a craving and enjoy the festive fall flavors of pumpkin and cinnamon without going on a crazy binge.
A pinch of sweetness (without the blood sugar roller coaster and crazy mental/emotional triggers) is made possible in this recipe by Lakanto's Monkfruit sweetener.
Save 20% on LAKANTO products with our coupon code PRIMALEDGEHEALTH
Alternatives?
I use Lakanto exclusively. If you don't have it available, substitute with liquid stevia drops to taste or equal amounts of a different brand of monkfruit sweetener or pure erythritol instead.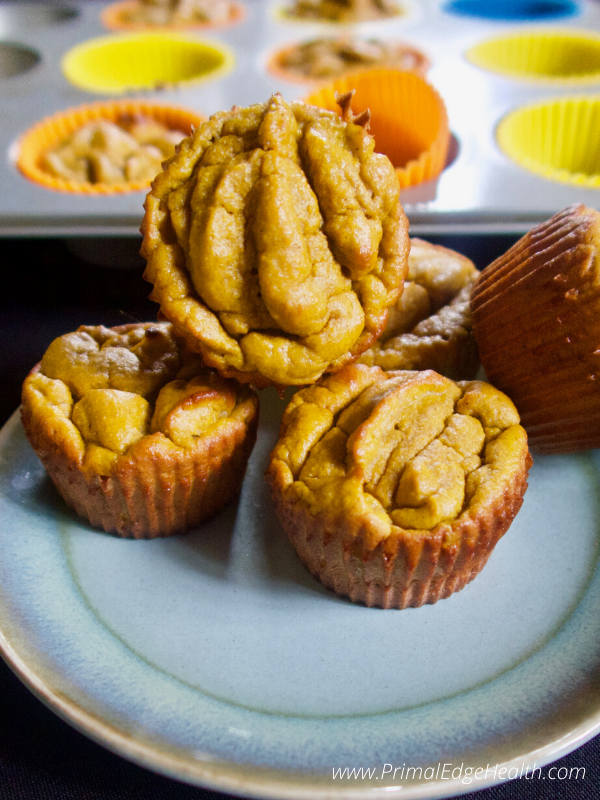 Variations on this Healthy Pumpkin Muffin Recipe
Use your favorite pumpkin pie spice blend, learn how to make your own in The Ketogenic Edge Cookbook.
Did you know there are different types of cinnamon? Ceylon (also called "sweet") cinnamon or Cassia cinnamon are both excellent.
An added ¼ tsp each of ground nutmeg, cardamom, star anise, allspice, and/or clove will enhance the muffins with more warm fall flavors. (Mountain Rose Herbs is my favorite place for organic herbs and spices).
Feeling fancy? Add 2 tablespoons of chocolate cacao nibs to the batter or grate white chocolate cacao butter on top of each muffin.
Warm and cinnamon-sweet, this hot keto cereal is another great breakfast for fall!
Add these with other keto breakfast recipes to your weekly meal prep.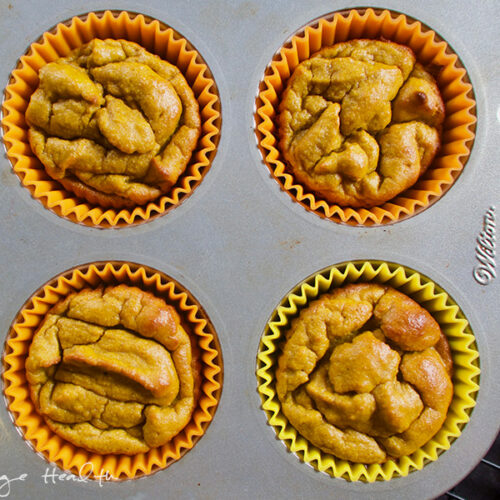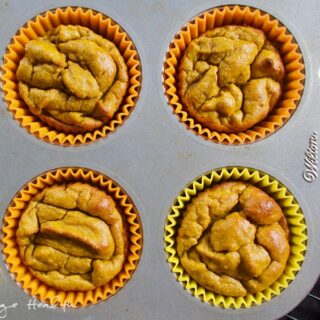 Dairy-Free Keto Pumpkin Muffins
Light and extra moist, these pumpkin muffins are made to fit keto macros. Perfect for a grab and go breakfast, they are 100% dairy-free, low-carb, and sugar-free.
Instructions
Preheat the oven to 350* F / 177* C.

Combine all ingredients in a medium mixing bowl. Blend with an electric mixer or whisk.

Pour batter into a standard sized 12-cup muffin pan, greased or lined with paper or reusable liners.

Bake for 20 minutes until golden and firm on the top.

Remove from the oven, set aside to cool. Serve warm or cold.
Nutrition & Macros
Serving:
1
muffin
Calories:
44
kcal
Carbohydrates:
3
g
Protein:
4
g
Fat:
3.5
g
Saturated Fat:
1
g
Sodium:
8
mg
Fiber:
2
g
Net Carbohydrates:
1
g
To obtain the most accurate representation of the nutritional information in a given recipe, please calculate the nutritional information with the actual ingredients and amounts used, using your preferred nutrition calculator. Under no circumstances shall the this website and the author be responsible for any loss or damage resulting for your reliance on the given nutritional information.
Made this? Leave a Rating! ⭐⭐⭐⭐⭐
Tag a photo with @Primal_Mom and #PEHRecipe on Instagram to share with us!
More Keto Pumpkin Recipes