So called "Fat Bombs" are usually a mixture of coconut oil or butter and flavoring agents like nut butters, cacao or chocolate powder, and vanilla or mint extracts. These little "candies" can be used to curb sweet cravings, fill the diet with more healthy fats, curb hunger or give a quick boost of energy during the day. Maca cinnamon fat bombs serve all these purposes; enjoy the creamy mix of coconut oil, maca, and nut butter for sustained, long-term energy.
Drop a few pieces into your morning coffee or tea and start the day off with a ZING!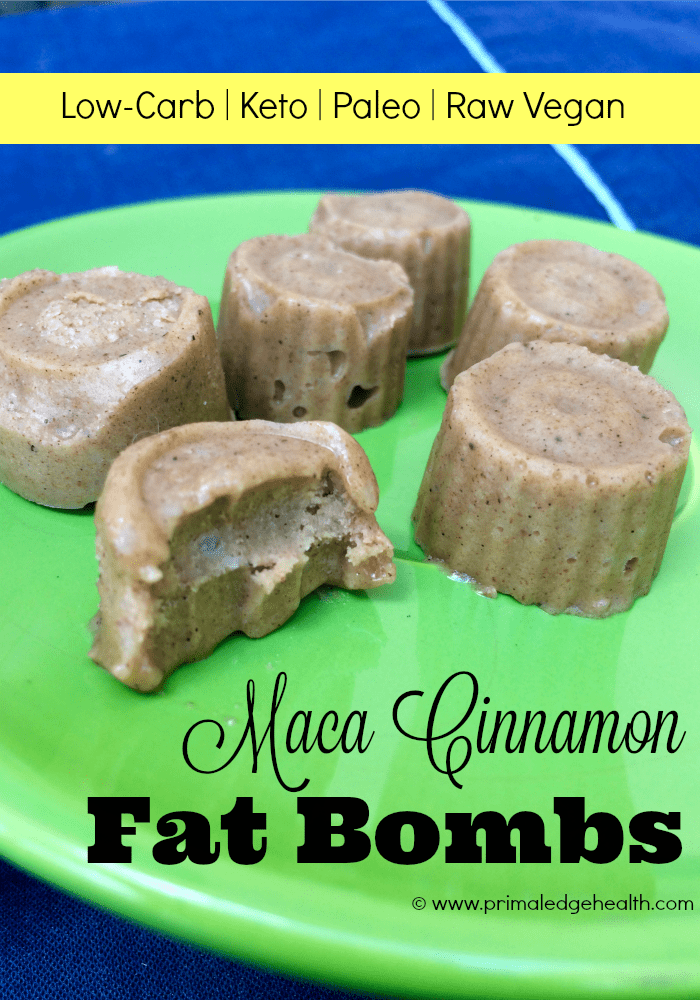 Coconut oil is one of the best energy sources for a Ketogenic Diet
Coconut oil is well known for its health promoting benefits and even if you are not desiring to follow a ketogenic diet, coconut oil is an important addition to any diet (raw vegan and paleo approved!), The medium chain triglycerides (MCTs) found in coconut oil are metabolized quickly and efficiently. The body uses these compounds as a source of energy or turns them to ketone bodies with therapeutic effects on the brain and body.
A high-quality oil contains potent antimicrobial properties that guard against Candida species in the gut. Of the various strands of Candida tested, "C. albicans had the highest susceptibility to coconut oil" which is good news in the fight against candida. The fatty acids in coconut oil can kill harmful pathogens and potentially help prevent infections. Read more studies about the effectiveness of coconut oil as a antimicrobial and antifungal agent:
Coconut oil + Maca = Powerhouse of Energy and Nutrition
We are huge fans of maca powder, an Andean tuber grown above the grass line in Peru. If you have not yet seen our (free) ebook Maca: The Andean Adaptogen please check it out! In addition to the 17 paleo, low-carb, and ketogenic recipes there is a discussion of various scientific studies showing a wide variety of benefits as well as a bit about the historical significance of maca and our own personal story about why we love it so.
The response to our maca powder has been consistently very positive. We are happy to hear how this Incan superfood is benefiting so many lives!
Want to see more delicious and nutritious recipes? Check out The Ketogenic Edge Cookbook in our shop now!

A quick energy boost with coconut oil, nut butter, maca, and spices.
Ingredients
1/2 cup coconut oil
1/2 cup nut butter (macadamia, walnut, pecan, or almond)
1/2 to 1 tablespoon maca powder
2 teaspoons cinnamon powder
1 tespoon ginger powder
1/2 teaspoon vanilla powder
1/2 teaspoon nutmeg powder
pinch of salt
Stevia, optional
Instructions
In a food processor combine the oil and nut butter until thoroughly mixed.
Add in all the powders and salt, combine well.
Taste, adjust the flavor with stevia if desired.
Transfer to chocolate molds, ice cube trays or mini muffin tins and place in the refrigerator or freezer to chill. Store in the fridge in an airtight container.
Notes
Macros per serving: 3.6 g protein, 30.2 g fat, 5 g carb, 3.5 g net carb
http://www.primaledgehealth.com/maca-cinnamon-fat-bombs/