Coconut flour is a wonderful keto and low-carb ingredient for baked goods and gluten-free foods. A ketogenic diet is not restrictive, there are a multitude of delicious and satisfying low-carb, gluten-free, high-fat replacements for many of the well known carb heavy foods. You can have your pancakes and eat them too!
There are many possible variations of this recipe. Pancakes can be made savory or sweet depending on your preference, dietary framework, and what you plan to serve them with.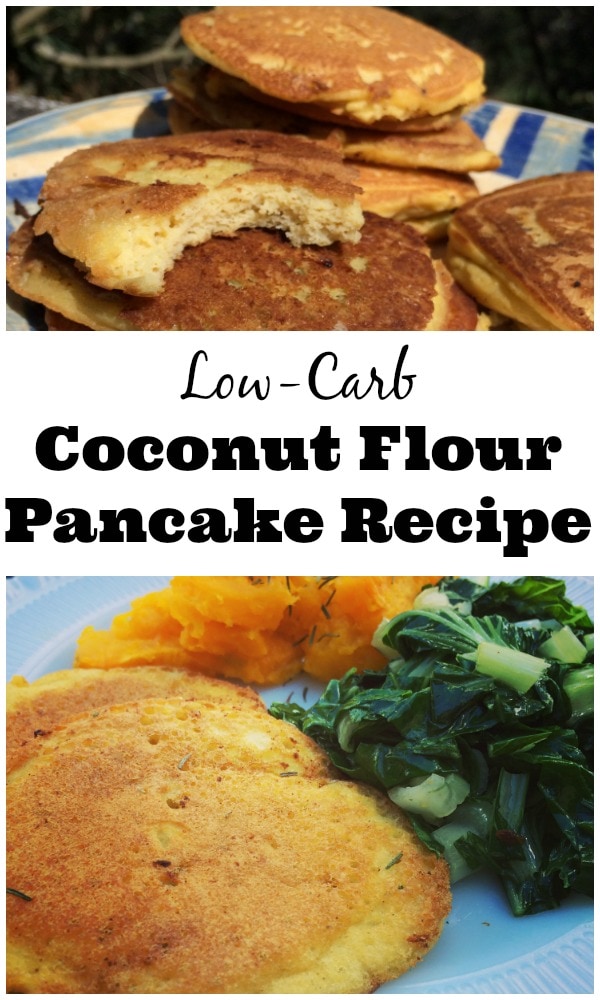 Make savory low-carb coconut flour pancakes by adding herbs like rosemary, thyme or oregano. Chopped chives and minced garlic are also nice to add into the batter – these make great sandwich breads!
Make sweet low-carb coconut flour pancakes by adding 1 teaspoon of ground cinnamon, 1/2 teaspoon each of ginger, clove, and vanilla powders. Serve warm with a layer of nut butter, whipped cream and a small handful of local, seasonal berries.
Add some of our Premium Raw Organic Maca Powder for a nutty flavor and adaptogenic energy boost!
In my experimenting, I have learned an important trick – coconut flour is a very dense material and can lead to a dry, crumbly product if this tip is not followed. When you use coconut flour be sure to add an equal volume of water (for 1/2 cup coconut flour use 1/2 cup water). 
The added water will fluff up the recipe and make it more palatable.
Whisk eggs in a medium mixing bowl. Add oil and water, whisk again well.

In a separate, small bowl combine the dry ingredients.

Add the dry mixture to the wet and stir until all is evenly incorporated.

Place a small spoonful of cooking oil on a frying pan or skillet, wait for it to warm up. Once oil pops, add a portion of the bater. Cook until air bubbles burst, 1 to 2 minutes. Flip and cook the second side for another minute.

Serve immediately warm or cold in a packed lunch.
Macronutrients Per Serving: 11.5 g protein, 22.3 g fat, 10.6 g carb, 4.6 g net carb
Save