Years ago when we stepped away from the typical Standard American Diet (SAD) I made this low-carb alternative to mashed potatoes for a holiday feast. This dish was placed on the table at a family get together and soon devoured by all! The creamy consistency of mashed cauliflower with butter and flavourful herbs was too delicious to resist.
This low-carb cauliflower mash recipe is pulled from the quintessential low-carb keto recipe book, The Ketogenic Edge Cookbook, which includes a number of cauliflower based recipes. There are many meal suggestions that mix and match different cauliflower dishes with various entrees, dips, sauces, and sides. A labor of love, this "training manual" to teach the essentials of successful low-carb, ketogenic cooking. Cauliflower is one important tool to learn how to use.
Eat cauliflower not carbs.
Cauliflower is incredibly versatile, if you know how to use it. Rice, pasta, and potatoes can all be deliciously replaced with this low-carb veggie. Cauliflower bread, buns, bagels, dipping sticks, and casseroles are just some of the possiblities.
For now, we are focused on using cauliflower as an low-carb alternative to mashed potatoes. Mashed potaotes are a common staple for many, now you can enjoy the same creamy texture without a high carb load.
Simply blend cauliflower with butter, cream (or coconut cream), and cream cheese (optional) for a low carb alternative to starches. Gete creative with the herbs and flavors, the possiblities are limitless. Take your cauliflower mash to the next level by mixing and matching your favorite add-ins like chives, roasted garlic, parmesan, kale, and lemon.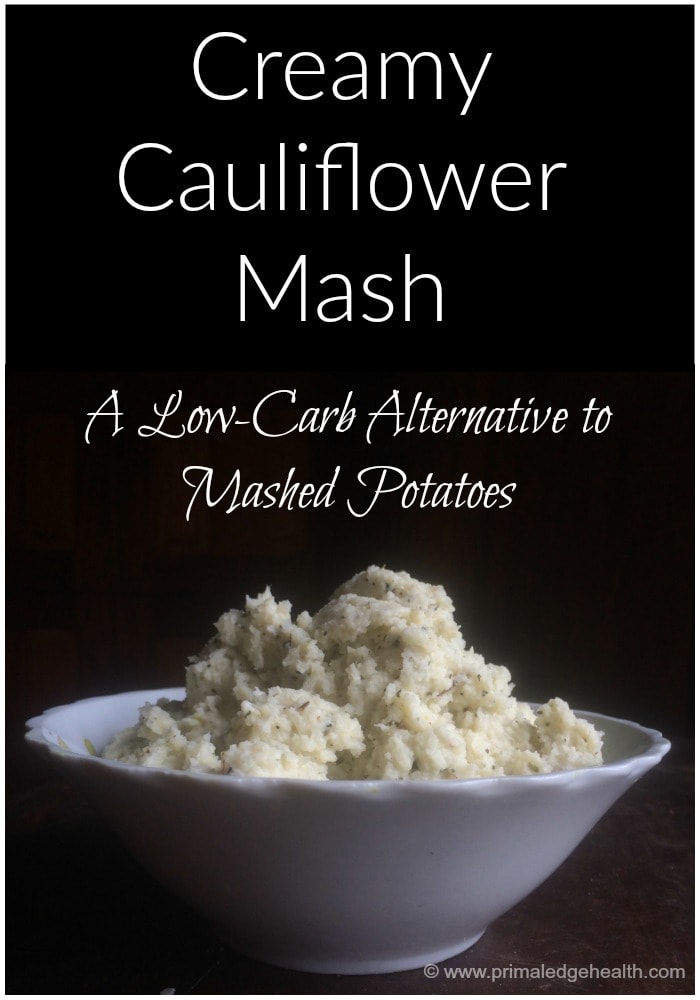 Rating

Prep Time

10

minutes

Cook Time

10

minutes
Rating

Prep Time

10

minutes

Cook Time

10

minutes
Chop the cauliflower into large pieces. Trim the inner core and cut florets down to size. Steam in a saucepan for about 10 minutes, until tender. Drain well, squeeze in a clean towel to remove as much water as possible.

Mash or blend cauliflower, cream, butter, sour cream, and garlic in a mixing bowl or food processor. Continue until the dish resembles mashed potatoes.

Mix in herbs de Provence.

Season with salt and black pepper to taste.

Serve warm.
Macronutrients Per Serving: 3.25 g protein, 11 g fat, 7.25 g carb, 4.25 g net carb
Looking for more recipes like this Low-Carb Alternative to Mashed Potatoes?
Enjoy exploring the versatility and variety of cauliflower in these low-carb, cauliflower based recipes. There are many more was to use this vegetable in addition to a low-carb alternative to mashed potatoes.