Thickly sliced cucumbers topped with dollops of spicy low carb tuna salad are great to serve to lunch guests or at a dinner party.
Certified "sustainable" by the Marine Stewardship Council, this wild tuna fish from the USA, is mixed in with onion, garlic and basil makes a creamy spicy salad.
Albacore tuna by US Wellness is our first choice for canned tuna.
I like it topped on fresh, peeled cucumber, but you can also fill lettuce wraps with this spicy tuna salad. Butter, red or romaine lettuce make nice carriers. Spread a layer over a leaf and wrap up to serve on a plate. Top your dish with homemade pickle relish or with a side of zucchini herb butter to your dish before serving.
Let me show you my favorite recipes for FREE!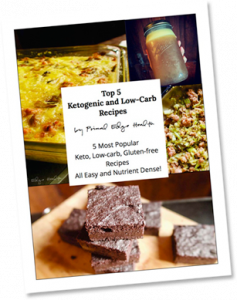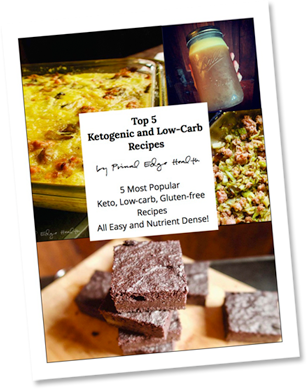 Sign up to get my new recipe ebook
This post may contain affiliate links. Primal Edge Health LLC may receive a small commission at no extra cost to you for any orders made through these links. All thoughts and opinions are my own and I never promote something I wouldn't use myself.
Sustainable Source for Low Mercury Tuna Fish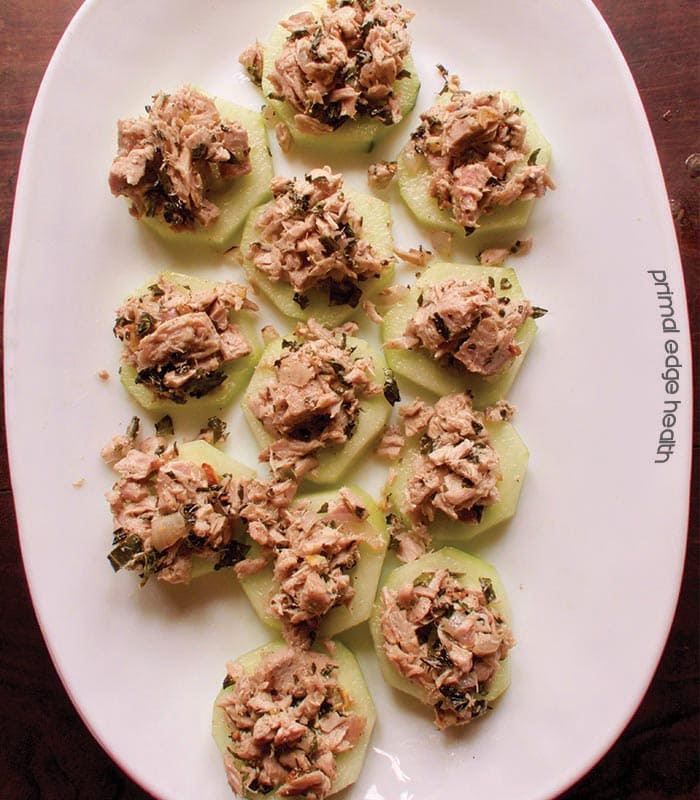 High in Omega-3's, CLA and branch chain amino acids, canned tuna fish is a solid source of animal protein to add into our diets. A 6-ounce can from US Wellness contains 12 g fat, 0 g carb and 48 g protein.
Their tuna is sourced from a North Pacific fishery which specializes in using small boats that line-catch individual tuna using the sustainable troll method. Their practices are safe for the dolphin population and have minimal bycatch.
This type of albacore has low mercury content and has been categorized as a "Best Choice" by the Monterey Bay Aquarium.
Tristan and I both enjoy having canned fish on hand for easy meal prep. I keep the pantry stocked with a variety of wild-caught canned fish. Our kids love wild-caught canned salmon, I add it to omelettes, egg muffins and salads.
We recommend shopping at US Wellness for sustainable sources of fish and seafood.
★ FOLLOW PRIMAL EDGE HEALTH on INSTAGRAM, PINTEREST and FACEBOOK for more low-carb, ketogenic recipes and diet tips!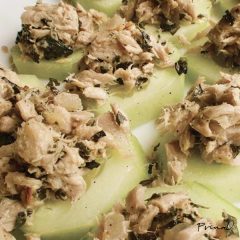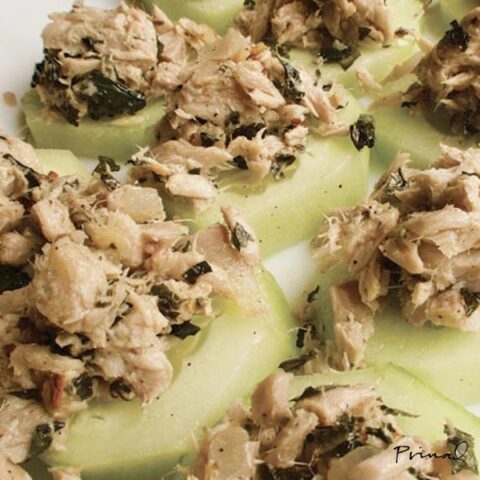 Spicy Tuna Cucumber Bites
Spicy tuna salad topped on fresh crunchy cucumber discs.
Print
Rate
Instructions
Peel the cucumber in to 20 thick discs. The amount of discs depends on the length and girth of the cucumber, use two smaller ones if needed.

Drain the tuna and place in a medium bowl.

Chop the onion, garlic and basil leaf. Add to a skillet and lightly saute until garlic is golden. If you are short on time, these ingredients can also be kept raw and added to the tuna directly. Add mixture to the tuna once done.

Mash the tuna and onion mixture with vinegar, lemon juice and oil. Season with salt and pepper. Mix well, taste and adjust as desired.

Spoon portions on top of each cucumber slice and serve immediately. Store leftovers in the refrigerator.
Notes
Macros per piece: 1.1 g fat, 0.6 g carb, 0.4 g net carb, 2.1 g protein
Pin it for later: