Collagen and elastin levels, which assist in keeping our skin looking healthy and firm, begin to decrease once we enter our thirties. Moisturizing with a Homemade Wrinkle Cream will help to keep your skin smooth and strong.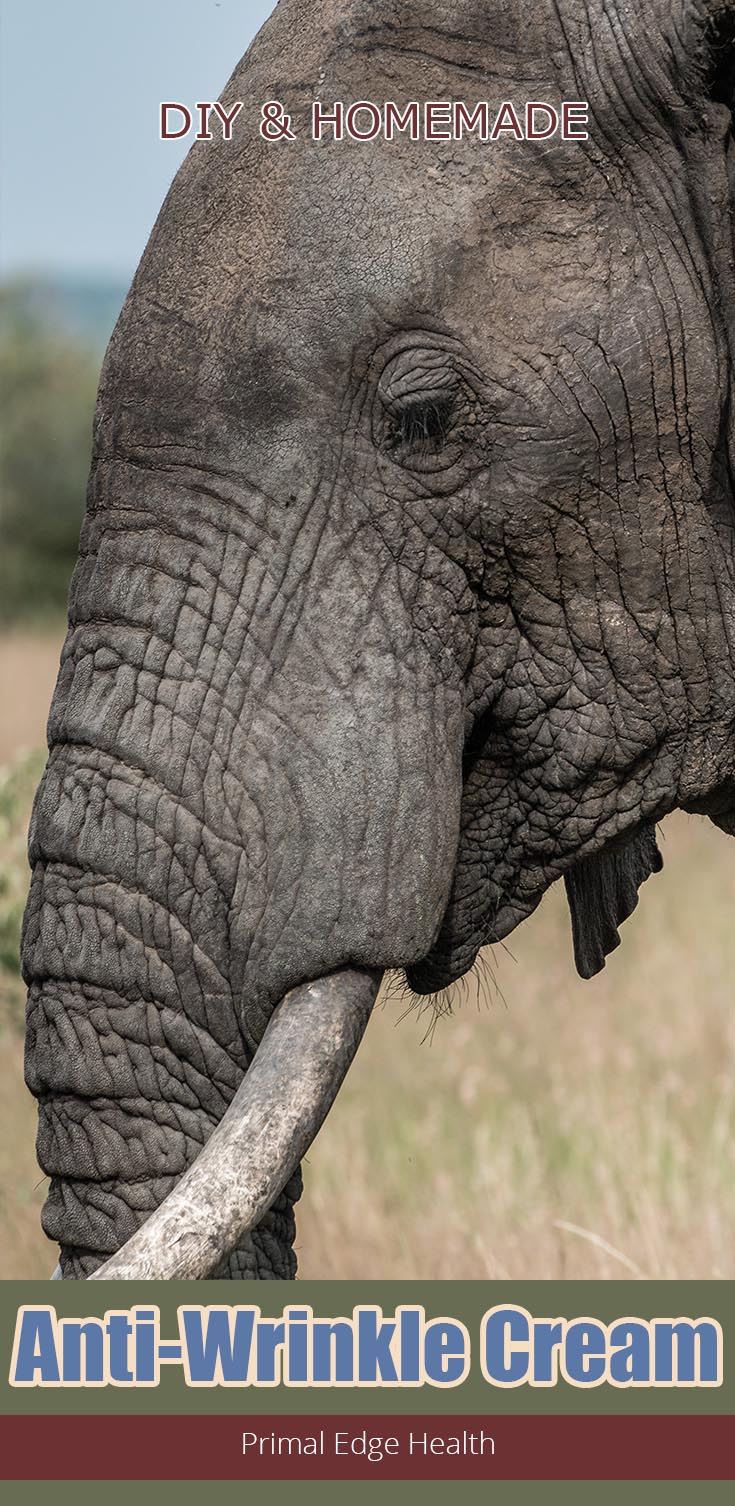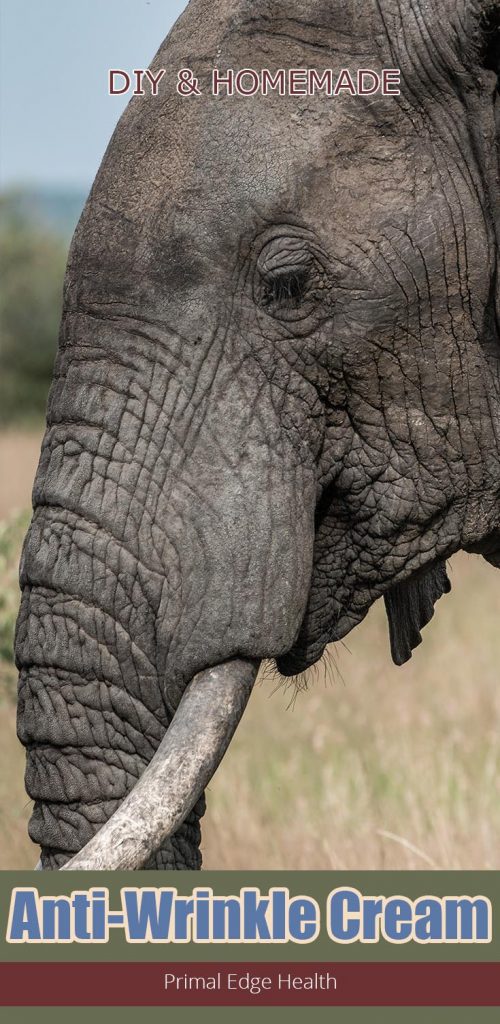 Stress is another huge factor that will create wrinkles. Anytime we're over worked and overloaded, our skin cells have to work that much harder to complete their normal functions.
Using a natural wrinkle cream, free from harsh industrial chemicals and preservatives, soothes the epidermis, stimulates rejuvenation, and may help correct imperfections.
This time tested homemade wrinkle cream recipe is generously shared by Paige of Elder N Honey. Her online Etsy store has been selling quality tallow based skin care products for years. She is a master of making tallow balms!
Tallow is the best part
The solid, white, creamy fat known as tallow has been a staple in my home for years. I featured it heavily in The Carnivore Cookbook as a healthy (and super affordable) fat source. It is made from any ruminant and an excellent introduction in to nose to tail eating.
I usually render tallow at home but you can also purchase grass-fed beef tallow US Wellness.
Fat soluble vitamins A, D, E & K, natural fatty acids and lipids are found in abundance in tallow. Tallow may be one of the very best ingredients for skin care. Beef tallow is highly compatible to our skin.
From Traditional Nourishing and Healing Skin Care by Andrew J. Gardner, Weston A. Price Foundation
"Our ancestors overwhelmingly used tallow for skin care. For example, a book of 'recipes' for all facets of life, written by Dr. A.W. Chase, MD in 1866, lists ten formulations of salve, eight of which contain tallow, in addition to other natural ingredients.

The healthy traditions of our ancestors were not haphazard but had a purpose that seems to have been rooted in their very being… We might even say that the ancestral wisdom on nutrition and health is more reliable than modern scientific studies, which are subject to manipulations and misinterpretations and can only look at one small piece of the puzzle at a time."
Tallow is excellent for sensitive skin. It is known as a non-reactive, non-allergenic ingredient in DIY skin care for all types of skin. Elder N Honey has NEVER had a reported reaction to plain tallow in the 8+ years of selling their balms.
Because I love tallow skincare recipes so much, I also use them on my lips. This DIY Tallow Lip Balm makes my lips feel silky smooth!
3 Steps for Homemade Wrinkle Cream + Essential Oil Choices
Melt tallow
Combine oils
Blend tallow and oils
That's it!
Store your Homemade Wrinkle Cream just like any other lotion. Any type of jar with a lid will work, as long as it is air-tight and clean.
The following oils are best to use in your wrinkle cream. Limit to 7-10 drops of essential oil, maximum, per 1 cup tallow.
You can also use coupon code PRIMALGLOW in the Elder N Honey etsy shop for 15% off any tallow lotion or creams!
Homemade Wrinkle Cream Tips & Tricks
Each batch of tallow will be different, textures, colors & consistencies WILL vary. Each cow is a little different and so each batch of tallow with also be slightly different.
A little goes A LONG WAY! It is easy to overdo it with tallow, start small and dab gently around your eyes and target skin areas
Completely shelf stable, well rendered tallow will keep basically forever if well stored. Up to 2 years, easily without refrigeration
Do NOT ADD WATER or anything containing water to these lotion recipes. Once water is added you'll need to use some sort of preservative, but what a hassle and not necessary.
This is a thoughtful gift for moms and grandmas! If you want more ideas, check out Bath and Body Recipes that Make Great Homemade Gifts.
FOLLOW PRIMAL EDGE HEALTH on INSTAGRAM, PINTEREST and FACEBOOK for more simple DIY beauty and personal care recipes!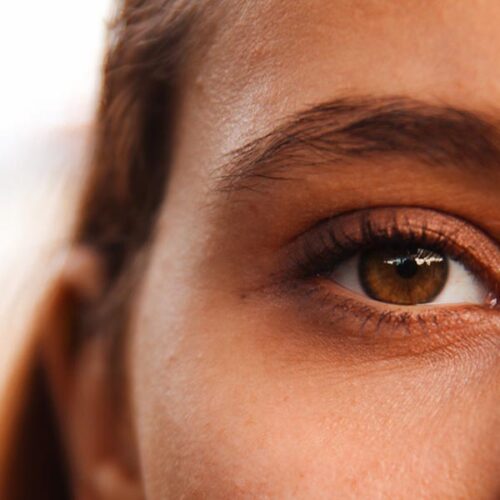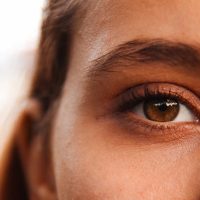 Homemade Anti-Wrinkle Cream
Make Homemade Wrinkle Cream in 3 easy steps. Tallow based cream is highly recommended for sensitive skin, it will nourish the area from the outside in.
Print
Pin
Rate
Instructions
Place desired amount of tallow in a large mixing bowl.

Mix the olive oil and essential oils together in a small, separate bowl. Pour over tallow.

1-2 teaspoons extra virgin olive oil,

5-10 drops essential oils

Begin mixing with an electric mixer until ingredients become fluffy.

Store just like any other lotion in a clean air-tight vessel with cap.
Notes
Soft oils are liquid at room temperature. Olive oil, sweet almond oil, and macadamia nut oil are examples of cosmetic soft oils.
Limit the essential oils to a 10 drop maximum per cup of tallow.
Made this? Leave a Rating! ⭐⭐⭐⭐⭐
Tag a photo with @Primal_Mom and #PEHrecipe on Instagram to share with us!
Try all of my other easy tallow skin care recipes too!