Homemade beef tallow candles add a beautiful glow to any room of the house.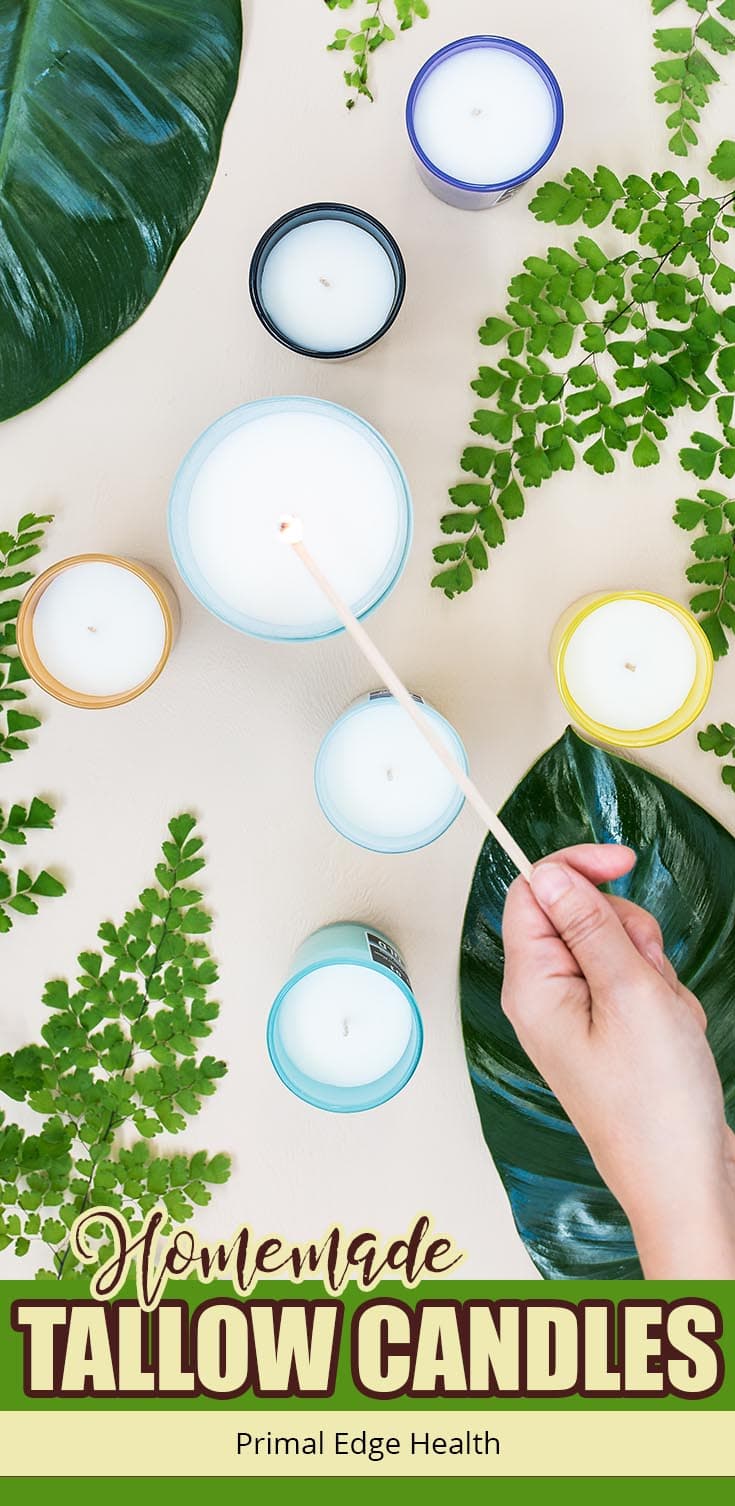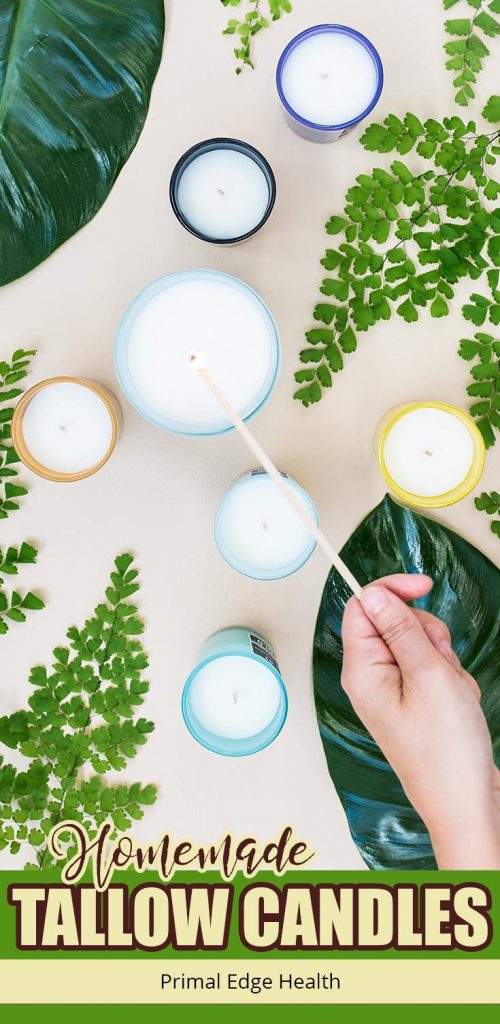 Unwind with a few candles around your bathtub at night or read your toddler to sleep by candle light. However you enjoy candles the most, this will be a good fit!
Benefits of Non-toxic Tallow Candles
Tallow is generally pretty affordable. You can purchase from a local supplier, online at US Wellness, or render it yourself.
What's wrong with store bought candles?
Unfortunately, there are many hidden ingredients in low-quality, mass produced candles.
Paraffin wax is the major ingredient in most conventional candles. It is a by product of petroleum and coal processing and technically considered a waste product from these industries.
When paraffin is burned, it emits benzene and toluene which are both highly toxic and known carcinogens. In 2001 the Environmental Protection Agency concluded that burning paraffin candles emits harmful amounts of toxins in the air, considered dangerous with multiple exposures. Some claim the black smoke emitted from paraffin candles is on par with inhaling diesel fumes.
Even through the EPA officially banned lead wicks in 2003 there are still many candles on the market with lead-core wicks. Candles made in China, for example, have no regulation of lead content and continue to to fill the market.
Since the 1970's different agencies have issued warnings over health concerns of petroleum (and other chemicals like acetone, tetrachloroethene, chlorobenzene, ethylbenzene, styrene, xylene, phenol, cresol, cyclopentene, lead, and carbon monoxide) that are constitute mass produced store bought candles.
The big problem? Candle manufacturers are not required to list or disclose hazardous, toxic or carcinogenic compounds used in their products. It is up to the individual to be an educated consumer.
After reading up on the modern candle making process and concerns over certain chemical constituents, I was eager to find an alternative.
Tips for Homemade Tallow Candles
The method is flexible, it's best for me to give a general guideline so you can adjust in proportion to your mold.
I usually render tallow at home but you can also purchase grass-fed beef tallow US Wellness.
Mold options vary, I often recycle plastic water bottles into candle molds. Dixi cups, muffin tins, or mason jars are also possible choices. Silicon candle molds work well also.
At night, we use salt lamps, a red light therapy device, and candles as our main light sources. I can say from first hand experience, these tallow candles burn slowly and one large candle will last through the entire week with heavy use. A pint size candle burns for about 14 hours.
Save the wax as it melts down around free standing candles (not those in mason jars) to melt again and reuse in future batches.
These are beautiful and thoughtful gifts. Share them with all your friends! If you want more ideas, check out Bath and Body Recipes that Make Great Homemade Gifts.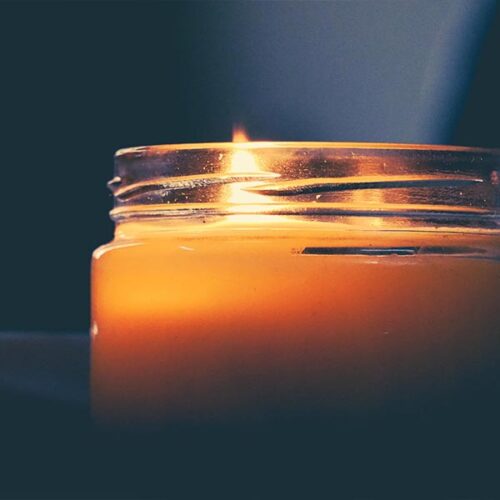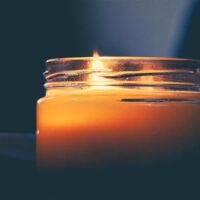 Homemade Tallow Candles
Homemade tallow candles are 100% natural and organic without a trace of potentially toxic materials. They are an easy to make, non-toxic and affordable alternative to store bought candles.
Print
Pin
Rate
Instructions
Melt enough tallow to fill your mold. I melt my tallow at a low temperature in a glass pyrex in the oven, you can also use a double boiler.

beef tallow,

10-20 drops essential oils

While the tallow is melting, dab a small bit of hot glue on the wick stand and attach to the bottom of your mold or use a wick sticker.

Arrange two popsicle sticks with the wick resting in between, this keeps the wick straight in the container.

Allow the tallow to cool a bit, while still liquid pour into the candle mold.

Add optional essential oils and stir them in, careful not to disturb the wick.

Cool in the fridge or at room temperature. Once the tallow is hard, remove from mold but cutting it away or popping out of the silicon rubber. If using mason jars, the candles remain in the glass to be burned.

If stored in normal conditions (not too hot or damp) the can easily last a few months.
Notes
Most people find the natural smell of tallow is unoffensive and subtle. If you want something extra, use lavender to promote relaxation and a calm peaceful mind. Bergamot, cinnamon, pine, cedarwood, and citrus oil are also wonderful to add individually.
Made this? Leave a Rating! ⭐⭐⭐⭐⭐
Tag a photo with @Primal_Mom and #PEHrecipe on Instagram to share with us!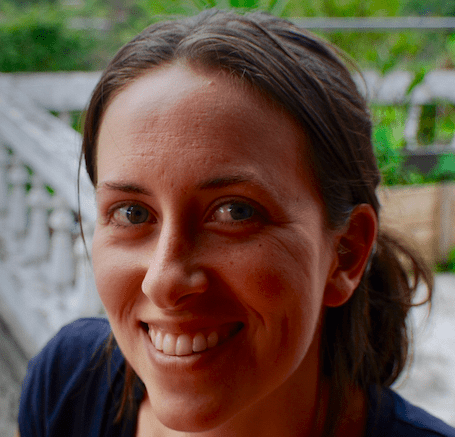 Meet Jessica Haggard
Jessica Haggard is the creator of Primal Edge Health, where she shares simple, nourishing low-carb, keto and carnivore diet recipes. With a focus on from scratch, homemade cooking, animal-based nutrition, and easy DIY beauty and personal care recipes, there's always something new going on in her kitchen! Jessica will teach you exactly how to thrive with all the best ingredients and enjoy the journey along the way.
She has photographed and authored two best selling ketogenic cookbooks, The Ketogenic Edge Cookbook and The Carnivore Cookbook. Learn more about Jessica…