Simplify your life, increase productivity and support your desire to lead a fulfilling and meaningful life with a healthy daily routine.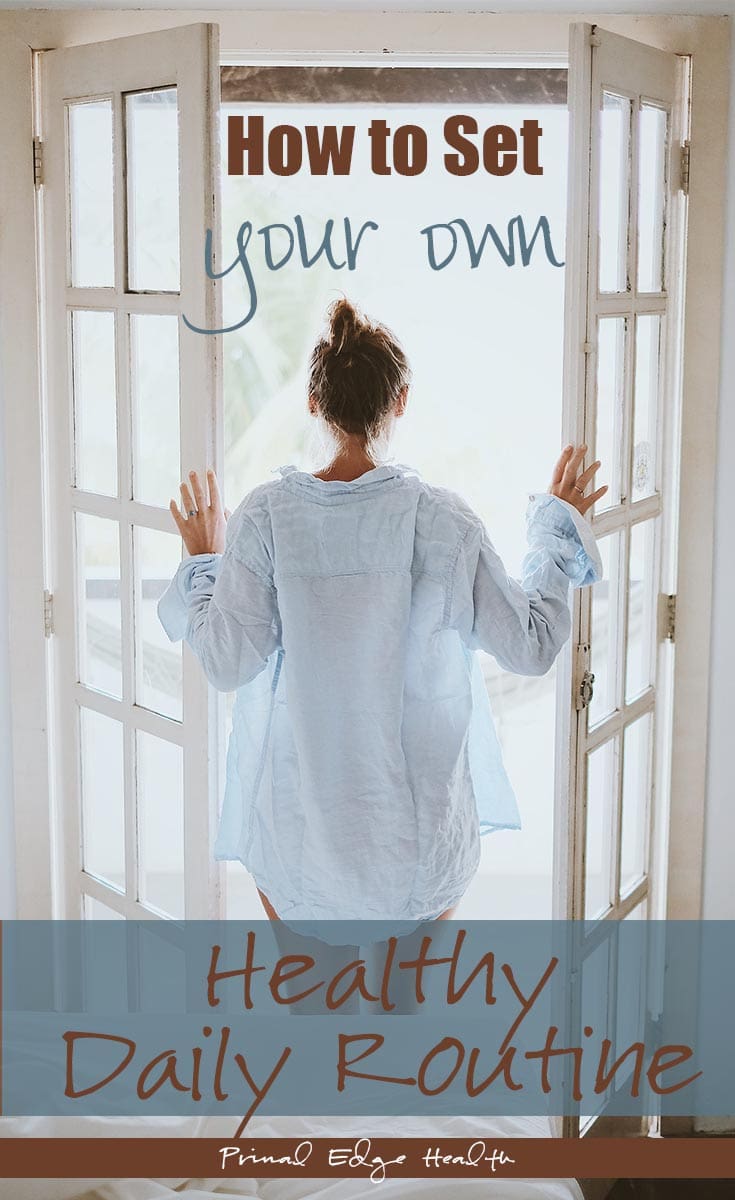 Our coaching approach in the Keto & Carnivore Collective goes way beyond a keto diet or carnivore diet. We look at all aspects of a well-rounded life. Diet is an important tool to leverage and is heavily influential in the way we feel, function, and perceive the world. Stress management, light exposure, and daily movement are other aspects we address as well.
For myself and many clients, planning out an "ideal day" helps to visually solidify goals, reinforce new habits, facilitate a work-family relationship and guide us to real accomplishments.
Table of Contents (click to view)
Set Strategy for a Healthy Daily Routine
At the end of each month, spend one night reflecting on all that happened and write out a plan for the coming 4 weeks. Set goals for the month, detail your most important projects, meal plan, and brainstorm homeschool-related outings and activities (as needed).
If you are like me and tend to go full force into something with unrealistic expectations and struggle to shake the feeling of failure when projects don't happen you think they should… take a breath.
I have a suggestion.
Break the Day Down into Sections
Organize your daily flow in a way that you can work on all your tasks a little bit each day. As a stay-at-home, homeschooling, homesteading momtrepreneur every day is bursting with fun, important, and more often than not, challenging tasks to accomplish.
My main goals usually fall within these categories:
Personal health and fitness
Domestic duties (aka housekeeping)
Homeschooling
Animal and Garden care
Primal Edge Health-related Work (website development, writing, and editing, general computer time)
Having a list of what to do and when to do it helps me approach this splatter of responsibilities with a calm focused mind. I can find a stopping place in one category and move on to the next, even though the work in each specific area is never truly done.
Who's ever seen the end to laundry, dishes, and emails?
How to Stay Motivated For Change
Obviously, there will be some variation in my days, but this essential structure helps me maintain a good lifestyle flow that shares focused time between family, work, and personal responsibilities and goals.
I feel good when I'm "doing it all." The difference between a "planned" or structured day versus a "free" day is similar to treading water in a wide open lake where I can see in all directions versus swimming upstream in a strong river with water pounding over and around me.
Yikes, I get stressed just thinking about that.
The plan and simple truth is, even a little structure like consistent exercise/movement in the morning and prayer/reflection time at night helps me tremendously.
Action builds momentum. Momentum builds over time.
Take these two principles to heart and you can make huge changes in your life. Feeling more productive, getting more done, and minimizing stress in your life will be encouraging factors for you to keep going!
Paving the way for new habits takes time, repetition, and intention, but it is worth it once you reach your goals.
No change is too silly or too small. If it matters to you, write it down.
Forgive yourself that you still slip up and make mistakes. Be humbled by your human weakness.
Make a plan of action to remedy the situation you want to correct – what is a realistic alternative for you?
You know what you don't want to do… but what is it you do want to do?
Take Your First Step
There's nothing wrong with baby steps! If you're new to this whole "healthy" living thing, it can seem overwhelming, shocking, and to be honest – quite frightening.
But that is just a momentary perspective.
It's as though you just uprooted your family and life surroundings and moved to Healthy Town, USA.
I can relate – Tristan and I moved there shortly before making the big leap to relocate to Ecuador, South America.
From one day to the next, everything is different. What do you eat? What do you drink? Are your candles toxic? What's a healthy DIY skincare alternative to store-bought chemical blends?
Relllaaaax.
Pick the top three things you want to change in your life.
Say it's taking a walk in the morning before work, drinking more water between meals, and having quality time with your family.
Figure out realistic ways that work with your lifestyle and budget and begin!
You must start somewhere and refine your approach as you go. The key is to just keep going.
If you "fall off the wagon," take a wrong turn, and get distracted, that's ok too.
Learn from your mistakes and get back at it! Your life is a special gift given just to you!
It's wonderful and amazing, precious and fleeting. What you do with it is your responsibility.
What My Healthy Daily Routine Looks Like
Morning
Up at 5:30am with children

Sit outside in crisp fresh air as the stars fade into the early morning sky. Quiet time.

Spend up to 30 minutes with red light therapy. Sometimes this involves me breastfeeding or reading with our children.
10-minute dry brush session followed by a quick hot shower light dose of Castille soap when needed. Homemade tallow lotion or coconut oil applied to the skin after a shower.
Drink 2 cups of water while I make my favorite teas or a warm cup of broth
Breakfast usually comes about an hour after waking up

Slow-cooked meat and fried eggs with lots of salt and butter is a current staple of mine
Keto Flatbreads with cheese or omelettes for our children
We eat outside together whenever possible

Computer time #1

Emails and chat in our Discord server with the Keto Collective
Touch base with our warehouse about cacao orders

Head outside with children and their bikes

Jump at least 300 x on rebounder (on the patio)
Chicken and horse care
Afternoon
Piano practice for our daughter and myself
Lunch
Homeschooling time (I do body-weight and kettlebell exercises in between explaining activity directions)

reading and math lessons
workbook activities and printables
sensory play, art and craft projects, process art

Nap time for the littlest Haggard, quiet solo play for the oldest
Computer time #2

Creative time for me, writing posts and putting together cookbooks

Return to the rebounder for the second session of light-impact movement
Sweep through the house, children pick up the floor and I clean
Dinner, optional

I usually just eat twice a day. If Tristan didn't eat earlier, I'll make grass-fed beef T-bone or top sirloin steaks
Children eat steaks. They usually have their higher carb foods like raw milk, raw honey, fruit smoothies, or plantains fried in tallow earlier in the day. We don't restrict or intentionally time their carb intake.

Free play for children and last email check-in for me (I use IRIS app to minimize harmful blue light and flicker rate from the computer screen)
Bedtime for children

shower, brush teeth, use red light therapy to relax (if needed), read books in bed with children by salt lamp light

Tristan and I relax together, share the best home massage tool everrrr and listen to podcasts or audiobooks
Around 9:30pm, I'm usually heading to bed to read a few pages of a book by a red salt lamp light before falling to sleep
The world is goin' crazy, no need to go with it #EatMeatMakeFamilies
A Note on Travel
Don't let your getaway ruin your progress of building healthy habits. Pack all the important travel essentials you need, prepare as much as you can ahead of time, and enjoy yourself! Once the habits are established, you'll be ready to get back into them again even after some time away.