Over a year in the making, The Ketogenic Edge Cookbook is now released! This is more than just a simple recipe book. We intended this collection of information, resources, and recipes to be a training manual for ketogenic, low-carb, and paleo cuisine. Follow the advice in here are you will boost your kitchen confidence!
Jessica has distilled her extensive experience and knowledge of preparing high quality, nutrient dense, healthy high-fat low-carb food into this 280 page training manual that will arm you with the skills necessary to be a keto-kitchen alchemist.
View Select Pages of The Ketogenic Edge Coobook here
5 chapters
8 recipe sections
134 individual recipes
We offer a number of variations to many recipes, illustrating how to expand and modify recipes and squeeze the most longevity out of a singe idea.
All recipes use whole unrefined healthy foods and are low-carb, grain-free, gluten-free and paleo friendly.
We have formulated 134 recipes, many with full page color images dedicated to keto kitchens everywhere. These recipes will inspire healthy cooking no matter your skill level. For beginners, there is plenty of discussion on food prep strategies and a complete resource section to help you source the highest quality food possible. Intermediate and advanced culinary artists will find a variety of recipes requiring advanced preparation techniques and gourmet ingredients. Of course, a recipe can be gourmet without much sweat in the kitchen!
Most of the recipes are the "quick and easy" type that maximize nutrient density and minimize time spent on food prep.
Each recipe contains serving size, prep and cook time, as well as the individual macronutrient profile per serving.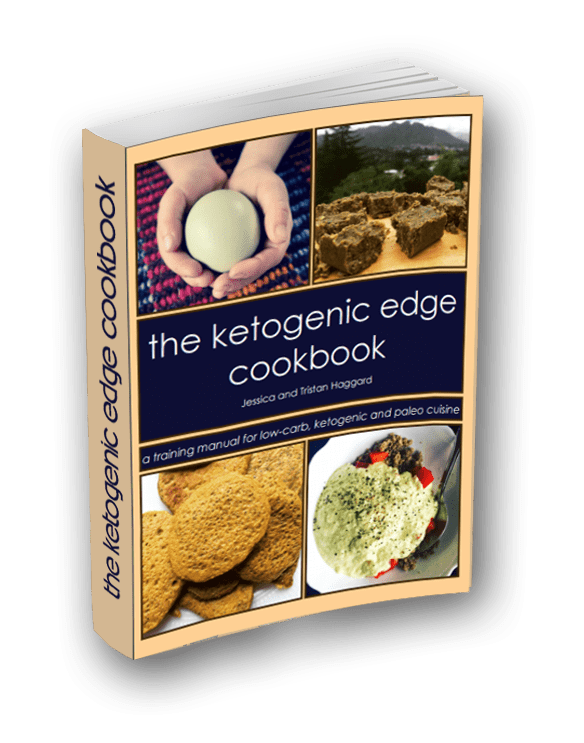 The response to our book has been extremely positive. Here are some of the things people are saying:
Phill Escott
If you are interested in understanding and eating a ketogenic diet, The Ketogenic Edge Cookbook is all you need. So much more than just a few recipes (134 actually), it explains what keto is and how to do it properly…and why. It even has the medicinal properties of each and every herb and spice used and loads of info about how to stock your kitchen and find all the natural, organic and grass fed ingredients you'll need. Go and buy it – it's worth it just for the sauces!! Marvellous stuff! I have never read a recipe book in one sitting before. It's bedtime, but I just want to start eating.
Luis Villasenor at Ketogains
As you know, in Ketogains we always suggest whole foods with adequate protein, and this is precisely the cookbook that falls in line with our protocol.

No nonsense recipes, no "fat bombs" nor over processed ketofied foods. Just the basics. My favorite recipes so far are the Spicy Sardine Frittata and the Keto FlatBread: because I suck at cooking 😛 Be sure to check it out, it certainly has the Ketogains seal of approval!!!
Tyler Cartwright at Ketogains
It's the cookbook I wish I had written. It dives into discussions on flavor profiles, spices and flavors, it has options for higher fat meals, lower fat meals, protein, etc. Do yourselves a favor…for the price, pick this thing up! Print it out. Enjoy. Plus any book where a man is holding a raw heart in his hand HAS to be awesome!
Evern Sener
Oh WOW. Guys…EVERYBODY…I just got my book and even at a glance it is gorgeous and fantastic. The photos are fab and these recipes are looking so tantalizing. Very VERY impressive. I can not wait to get cooking with it. What an absolute bargain.
Save
Save
Save
Save
Save
Save
Save
Save