Of all the low-carb sweeteners, stevia is probably the most common natural sugar alternative that can add sweetness to liquid and solid foods. Stevia is a plant, making it a far better alternative than artificial sweeteners that may do more damage than good. A homemade stevia extract is simple to make and provides you with a reliable, organic source of low-carb sweetness.
Homemade stevia extract is a smooth, sweet flavor without any grassy or bitter aftertaste.
A well-formulated ketogenic diet functions around carb restriction, meaning no sugar and minimal fruit. However, this does not have to equate to a restriction of pleasure as well. There are a handful of low-carb, keto friendly natural sweeteners on the market that will sweeten your food and drink without spiking blood sugar, trigger food cravings, cause inflammation, or lead to water retention.
Use stevia to sweeten these recipes from the dessert section in The Ketogenic Edge Cookbook
Chocolate Mousse
Dark Keto Chocolate
Berry Ice Cream
Double Chocolate Nutella (or any of the other 4 nut butter recipes)
Be sure to tag us (@primaledgehealth or #primaledgehealth) on Instagram and Facebook to share your photos with us and others interested in top quality, nutrient dense, low-carb food!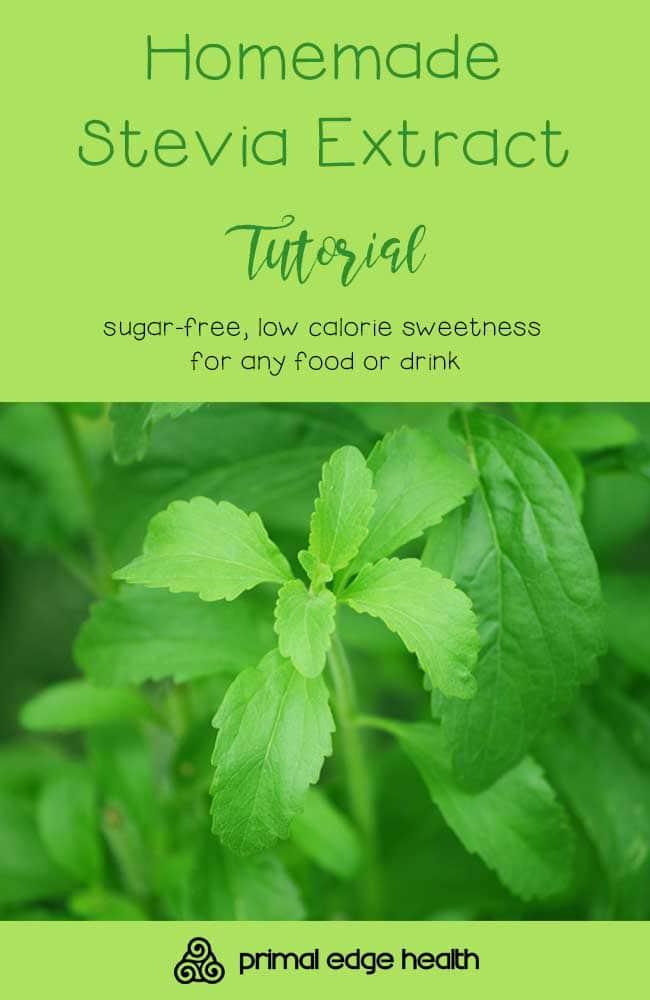 Stevia is sold in a few different forms. You can find the whole leaf, leaf powder, tinctures, and packets of granules. Using a liquid stevia extract is the best option. The extract will not affect the texture of a recipe and it is the cleanest, least processed form of this herb. Liquid extracts avoid the addition of flow or filler agents, however, store bought brands vary as does the quality of their extracts. There is discussion that some brands source from the whole plant while others make an extract from an already refined version of stevia.
A homemade stevia extract will never have undisclosed ingredients, maltodextrin, or "natural" flavors.
Liquid stevia is highly concentrated and recipes will require a small amount to use. One single drop or two is enough to sweeten a cup of coffee or tea, a 1/4 teaspoon and up to 1/2 teaspoon is usually enough to sweeten a cake, pan of brownies, or other baked good.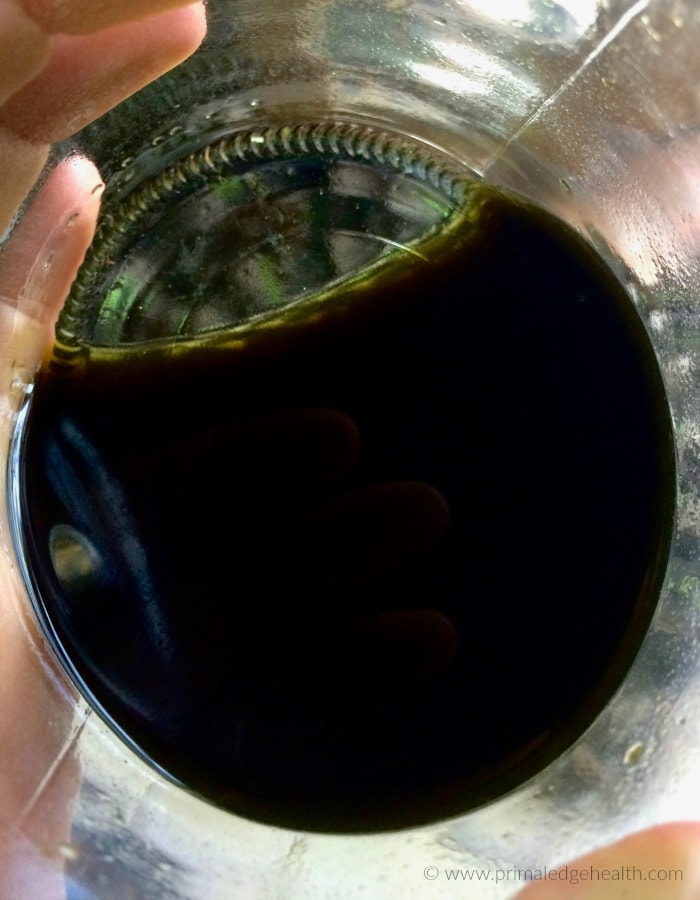 My tincture comes out a deep green after being simmered down for 30 minutes.
Stevia can grow in your garden quite easily; harvest the fresh leaf (or buy dried leaf), and make your own homemade stevia extract!
A homemade stevia extract is a fun project to do yourself or share with kids. We always include our four-year-old in the conversations about food, sustainability, and sourcing high quality ingredients. Teaching her how to make extracts is a great educational activity.
Use fresh leaf or dried. You can purchase dried organic stevia leaf in bulk here.
Rating

Prep Time

1450

minutes

Cook Time

30

minutes
Rating

Prep Time

1450

minutes

Cook Time

30

minutes
If using fresh leaf, wash and remove them fro the stem. Pick through and remove any brown or wilted ones. Coarsely chop. if using dried leaf, crumble into a clean quart sized glass jar.

Cover with vodka or everclear. Make sure the leaves are completely covered.

Place the lid on and tighten to secure. Shake and leave to sit on the counter, out of direct sunlight for 24 to 36 hours. Shake occasionally. Leaving for more will increase the bitterness.

Strain the leaves from the vodka in a fine mesh cheesecloth, nut milk bag, or kitchen towel. Squeeze to remove all liquid.

Pour the extract into a small saucepan and very GENTLY heat for 20 to 30 minutes, stir often. Do not boil. Heat so the alcohol evaporates off and volume reduces.
Store the final extract in a small glass bottle with tincture dropper. Keep in the fridge.
The amount ingredients varies depending on how much leaf material you use. Make a small or large batch as desired.
Enjoy maximizing nutrient density in your daily diet?
It is a great kitchen resource and inspiration for low-carb, ketogenic, and paleo cuisine!
Available only in our shop – come and support our work!
Save
Save
Save
Save
Save