Chia puddings can't be easier to make. It takes 10 minutes max to prep a pudding. Waiting for the seeds to swell and absorb all the liquid is the hardest part. I like to prep these and leave the recipe in the fridge to sit overnight. Then it is ready in the morning and I'm not tempted to eat it all ahead of time. A double chocolate mint chip chia pudding is a refreshing breakfast side with a rich tasting cacao induced energy boost.
Recommended Recipe: Key Lime Chia Pudding

Double Chocolate
I use cacao products in many of my recipes. It's no secret I like ketogenic chocolates, sugar-free white chocolate, hot chocolate, walnut fudge and chocolate mousse. My mint chip pudding is choco-fied with a double dose of cacao. Pure 100% cacao powder is mixed in with cacao nibs which are cacao bean pieces that remind me of chocolate chips. The mint essence is a powerful mood booster and pairs well with the known mood enhancing affects of the cacao bean.
More Chia Inspired Recipes

Enjoy maximizing nutrient density in your daily diet?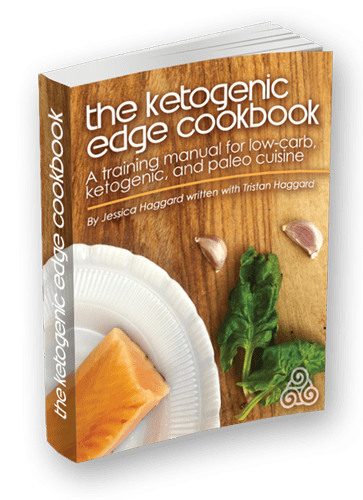 It is a great kitchen resource and inspiration for low-carb, ketogenic, and paleo cuisine!
Available only in our shop – come and support our work!
Rating

Servings

2

servings

Prep Time

10

minutes
Mix all ingredients in a jar with a tightly fitting lid. Shake well to combine.

Taste and adjust sweetener and peppermint as desired.

Soak in the fridge overnight and enjoy cold. Soaking overnight gives lots of time for the chia to swell and the pudding to thicken. If you like a more watery/creamy texture soak the seeds for less time (anywhere from 30 minutes to 2.5 hours). Soak, check, stir. Repeat.
Macros per Serving: 6.9 g fat, 12.5 g carb, 1.4 g net carb, 6.8 g protein
Save
Save
Save
Save
Save