Do you know what ingredients are in most mass produced candles? Unfortunately, many modern candles are not as innocuous as they may first appear.
What are the actual ingredients of store bought candles?
Paraffin wax is the major ingredient in most conventional candles. It is a by product of petroleum and coal processing and actually considered a waste product from these industries. When paraffin is burned it emits benzene and toluene which are both highly toxic and known carcinogens. In 2001 the Environmental Protection Agency concluded that burning paraffin candles emits harmful amounts of toxins in the air that are considered dangerous with multiple exposures. There are some claims that the black smoke emitted from paraffin candles is on par with inhaling diesel fumes.
Additionally, even through the EPA officially banned lead wicks in 2003 there are still many candles on the market with lead-core wicks. Candles made in China, for example, have no regulation of lead content and continue to to fill the market.
Since the 1970's there have been different agencies issuing warnings to the health concerns of petroleum (and other chemicals like acetone, tetrachloroethene, chlorobenzene, ethylbenzene, styrene, xylene, phenol, cresol, cyclopentene, lead, and carbon monoxide) that are constitute mass produced store bought candles. Candle manufacturers are not required to list or disclose hazardous, toxic or carcinogenic compounds used in their products. It is up to the individual to be an educated consumer.
After reading up on the modern candle making process and concerns over certain chemical constituents, I was eager to find an alternative.
Homemade tallow candles are 100% natural and organic without a trace of potentially toxic materials.
Fortunately, making homemade tallow candles could not be easier!
Why tallow?
I made an experiment candle with part tallow and part beeswax I saved after these beeswax candles melted down. The results were great. The waxes blended together easily and cooled in uniform. Popular waxes like beeswax, soy and palm may all work if you already happen to have them but nothing strikes me as sustainable, affordable or convenient as using tallow.
While there is no doubt beeswax is a better alternative than petrochemical, perfumed soups, tallow makes a superior candle. Tallow is cheaper and more accessible when compared to other waxes that have a much higher price tag and are more complicated and energy intensive to procure. Tallow results from a non-invasive production you can do at home. Ask around your area, it is likely that you can contact a local butcher and procure tallow (of suet) for very cheap, if not free and render it yourself.
In my experience and as the thousands of years of candle making history shows, tallow is the preferred base for candles.
Benefits of Non-toxic Tallow Candles
Homemade candles give an opportunity to source local and sustainable resources from farmers.
Tallow candles do not pollute the air like conventional candles.
There are no artificial scents and dyes, which release additional chemicals when burned and lead to indoor air pollution.
Non-toxic candles will never be linked to asthma or compared to being as harmful as second hand cigarette smoke like paraffin based candles are.
Unlike some conventional wicks, natural wicks are lead-free and do not contaminate your home with dangerous levels of lead.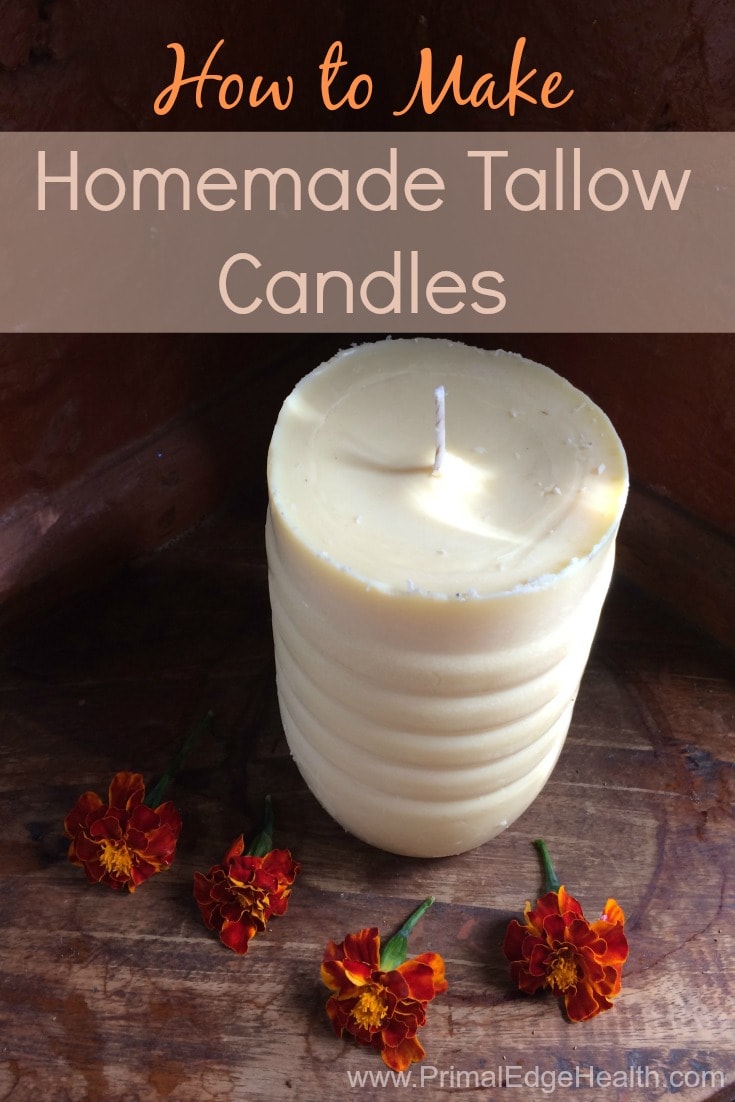 How to Make Homemade Tallow Candles
The method is so flexible I am not going to include specific measurements. You can easily adjust amounts in relation to your wicks and molds. Keep in mind the size of your wick should adjust in proportion to the size of your mold.
I adapted plastic water bottles to suit as my mold. Dixi cups, muffin tins or mason jars are also possible choices for molds. Once the tallow is solidified I cut away the plastic container. There are neat reusable silicone and rubber candle molds that I would like to try, but for now I am making a dent in our recycling pile.
Since we live in Ecuador I do not have access to strong high quality glass and have not tried using mason jars (I would NOT use any glass other than canning jars which are specifically designed to withstand high temperatures). These jars make cute looking containers. To give an idea of the size relation, the wicks I bought would fit nicely in pint size jars.
Homemade Tallow

buy in bulk or render your own

Candle wicks and stands

Hot glue or wick stickers

molds
Homemade Tallow

buy in bulk or render your own

Candle wicks and stands

Hot glue or wick stickers

molds
Melt enough tallow to fill your mold. I melt my tallow at a low temperature in a glass pyrex in the oven, you can also use a double boiler.

While the tallow is melting, dab a small bit of hot glue on the wick stand and attach to the bottom of your mold.

Use two markers (pencils or popsicle sticks) with the wick resting in between them to keep the wick straight in the container. The idea is to use whatever you have to keep the wick straight and steady.

Allow the tallow to cool a bit but while it is still liquid pour into your candle mold.

Add optional essential oils and stir them in. Lavender is a nice one we use because it promotes relaxation and a calm peaceful mind. Used individually, bergamot, cinnamon, pine, cedarwood, and citrus oil are wonderful to smell throughout the house. Essential oils are optional. Even though tallow can give off a strong smell when you render it, I have never noticed a bad smell from tallow candles. In fact, I find quite the contrary. These candles give a warm glow and pleasing subtle smell.

These candles can cool in the fridge or at room temperature. Once the tallow is hard, peel off plastic bottle with a sharp knife before burning. If stored in normal conditions (not too hot or damp) the can easily last a few months.
Candles are our main source of light once the sun sets, needless to say, we burn a lot of candles. I am happy to report these tallow candles burn slowly and one large candle will last throughout the entire week. This is roughly two hours a night for seven nights equalling 14 hours of burning time. Whatever wax melts down I save and recycle into the next batch.
Homemade tallow candles are an easy, non-toxic sustainable and affordable alternative!
The cheap store bought candles we used to use emitted a smelly black smoke and left a strange oily residue on my fingers. We get pretty close to candles when we read at night and our daughter likes to play with the wax. I do not want to be inhaling toxic fumes or have our three-year-old innocently playing with melted plastic. Now we use something better!
More DIY & Homemade for the Home
Follow Primal Edge Health's board Natural Homemaking on Pinterest.