Use any leafy green or a mixture of your favorites. Spinach, kale, boc choi, and collard greens are all fine choices. The carb count on these is all more or less equal. Remember to consider the NET carb count (total minus fiber) rather than total carb count whenever you look at the carb amount. Fiber is an important source of fuel for the gut biome, fiber is not be considered "sugar" as it does not get digested like glucose is in our bodies.  The coconut milk adds a creamy, sweetness to what are usually bitter leafy greens. This recipe is great to have with your first meal to ensure you start the day off with a good dose of healthy fats.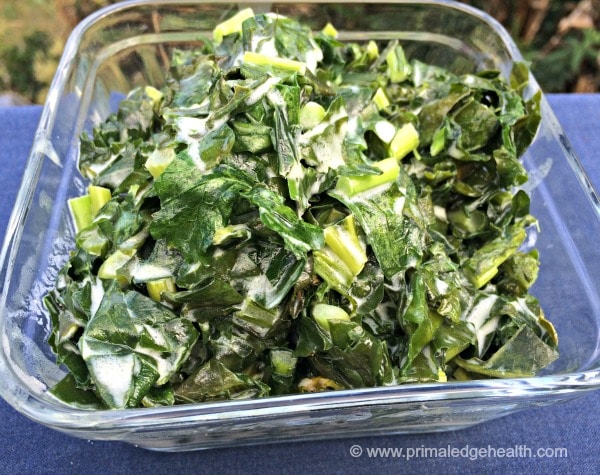 Coconut Milk v Cream
I prefer to use dairy products in the freshest state possible. This means raw and unpasteurized. We do have a local dairy nearby and can get a good quality cream but with seasonal availability. At the moment there is no cream being sold. Even if I could find a source of cream, coconut milk would still be my choice for this recipe since you do heat it to a low simmer. If I get a raw cream I want to keep it raw to maximize nutritional benefits.  This is just a personal preference, if you really like cream feel free to use full-fat heavy cream, it will still be delicious.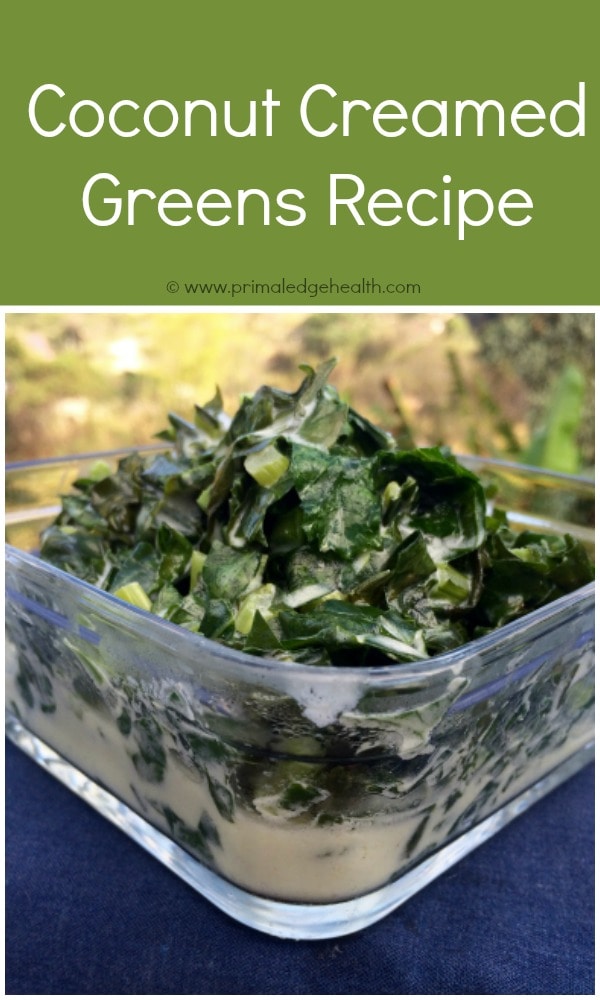 A Kid Approved Vegetable Dish
Coconut creamed leafy greens are much more appealing that a side of simmered or sauted greens lurking in a hot steamy pile. Add in your child's favorite herbs and ask for their help customizing the meal. I think blending these up would make a nice toddler food.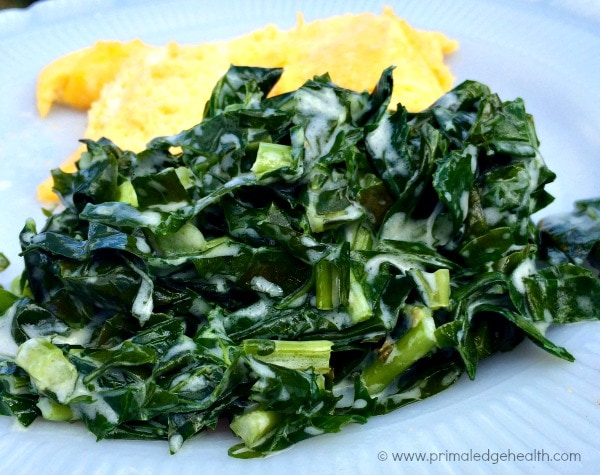 Rinse and coarsely chop the greens and chives.

Place in saute or frying pan and pour the coconut milk on top.

Saute over medium-low heat until the greens reach desired consistency, about 3 to 5 minutes.

Season with salt and pepper.

Serve warm, immediately.
Macronutrients per serving: 3.5 g protein 37.5 g fat, 6 g carb, 6 g net carb