Join us as we "hangout" on a LIVE stream via Youtube/Google.
Be sure to sign up for email updates and notifications about upcoming events in the blue box located in the right-hand sidebar that says "Join the Journey". It is as simple as entering your email and clicking "subscribe".
We often host live hangouts and live podcast/interviews. Whenever possible, we share announcements regarding the upcoming session a few days prior on the Primal Edge Health Facebook page and send out an email direct to you. Wherever you are in the world, you can meet up with us to chat about pertinent topics. Simply follow the youtube link, sign in, and start chatting with us and other like minded individuals!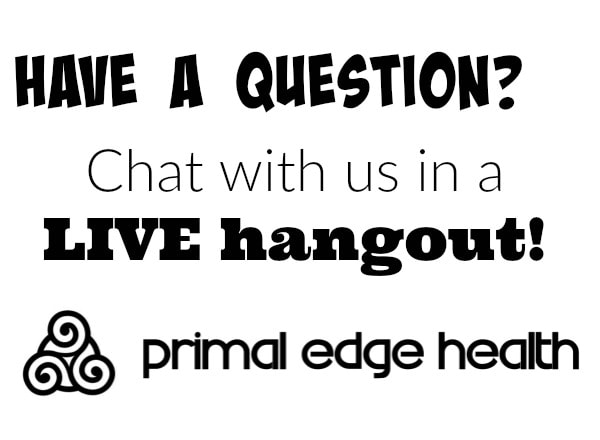 Catch past hangouts here in this video playlist:
Subscribe to the Primal Edge Health channel
Live Hangout, Q&A - implementing a ketogenic diet, athletes on keto, fat loss macros
Live Q&A Hangout - domesticated foods, intermittent fasting meal timing, and more
Live Hangout - porn addictions, when I was fat, keto for fat loss, and so much more
Q&A Hangout - keto, balance of health & happiness, MY LIVING ROOM EXPLODES :O
Hangout: "The Vegetarian Myth", creating real communities, my keto can beat up your keto
Live Hangout: meal timing, circadian rhythms, a better way to do intermittent fasting
"Is the American Heart Association a Terrorist Organization?"
Q&A - real life communities, organic food, forming the future economy
AHA & US Government villify fat & cholesterol, promote industrial waste diet
American Heart Association claims COCONUT OIL IS BAD!?
Live Q&A Hangout - what I eat when not on keto, questions from the audience
Live Q&A Hangout - depression & inflammation, why we live in Ecuador, keto tips
Live Q&A Hangout - keto diet basics, beginner's ketogenic diet tips & more
Live Hangout - truth about cyclical ketogenic diets, stress vs keto, & more
Live Hangout Q&A featuring Jessica - organ meats, gut health, ketogenic diet, and more
Save
Save