Join us as we "hangout" on a LIVE stream via Youtube/Google.
Be sure to sign up for email updates and notifications about upcoming events in the blue box located in the right-hand sidebar that says "Join the Journey". It is as simple as entering your email and clicking "subscribe".
We often host live hangouts and live podcast/interviews. Whenever possible, we share announcements regarding the upcoming session a few days prior on the Primal Edge Health Facebook page and send out an email direct to you. Wherever you are in the world, you can meet up with us to chat about pertinent topics. Simply follow the youtube link, sign in, and start chatting with us and other like minded individuals!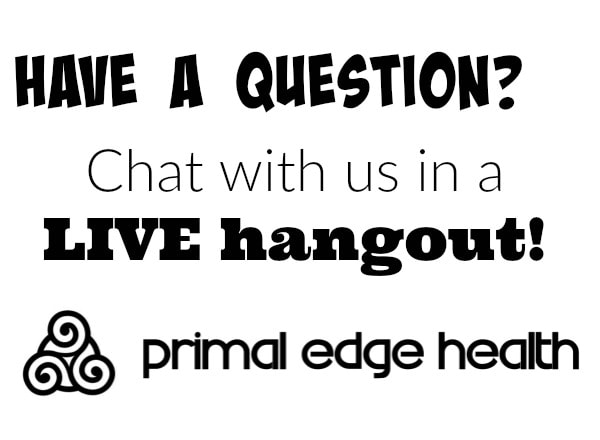 Catch past hangouts here in this video playlist:
Subscribe to the Primal Edge Health channel
Q&A- CELEBRATING 2 MILLION VIEWS! fat loss, common keto pitfalls, special cookbook preview
Live Hangout Q&A - Ketogenic Diet & Holidays, Travelling, Eating out on KETO, Maca and more
Live HANGOUT, Q&A - how the Hadza get probiotics, "cheat days", ketosis, refining the mind
Live HANGOUT, Q&A - Organ meats, optimizing sleep, Kratom ban, ketosis, lifting pitfalls and more!
LIVE Hangout - talking about life, ketogenic diet, raw vegan, education, and more
LIVE Q&A - living in Ecuador, cold exposure, stress reduction, chocolate, and more
Live HANGOUT and Q&A - talking about electrolytes, sleep issues, adaptogens, maca, and more
LIVE Q&A HANGOUT - Our favorite recipes, ketogenic cooking, and more!
THE KETOGENIC EDGE COOKBOOK - Live HANGOUT Launch Party and Q&A
Q&A LIVE - Tristan and Jessica on the home birth of their son, ketogenic diet, healthy lifestyle
Q&A, LIVE with Tristan and Jessica - Ketogenic diet, last pregnancy update & more
Q&A with the family - Candida & keto, Intermittent Fasting, Exogenous ketones, Maca, & more
Q&A - Dairy on Keto, IIFYM, healthy family lifestyle, Ketogenic adaptation, and more
Q&A: Tristan and Jessica pregnancy update, ketogenic mistakes, excess protein, kids & keto, and more
Q&A Tristan and Jessica on Sugar Addictions, Ketosis, Education, Fruitarian rehab and more
Save
Save